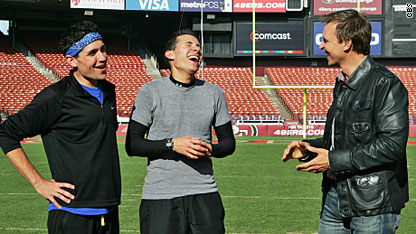 As much as fans (myself among them) seemed to be pulling for the cowboys, Jet and Cord, to win "The Amazing Race" on Sunday night, it was not to be. And they weren't beaten by the team who took first on the previous leg, Brent and Caite (of "U.S. Americans," "the Iraq" fame).
Like we've seen on so many previous seasons, it's the little things that count, and brothers Dan and Jordan made a couple of aggressive (some would say questionable) moves, which won them the $1 million prize.
I'm not sure exactly where it is that these two heard that placing a backpack in front of someone else's backpack means that you are allowed to cut in line, even when you arrived hours later. Nevertheless, Jet and Cord held their frustration in when they were placed in back of the line for a flight from Shanghai to San Francisco.
But the really cutthroat move came on the plane itself, when Dan and Jordan asked to be placed in first class, giving them a shot at the first cab out of the airport, a lead which the other two teams were never able to beat.
This final leg included one of the most difficult tasks I've ever seen on the show where one team member had to guide another through a virtual world at Industrial Light and Magic, then had to figure out that their partner needed to spin around so they could read a clue on their monitor. (I will give the computer animators props in their portrayals of Caite and Jet.)
Less difficult was the final task, which just required them to remember the order in which other teams were eliminated, something that anyone who had watched the show at all would know they should write down. Being such a big superfan, Jordan handled this task with ease.
Since there was no real conflict on the race once teams arrived in San Francisco (outside of that created by the editors), the most exciting moment came at the very end, where for the first time that I'm aware of, one team's bitterness over another came to a head. Brandy could not hold her tongue and got into a knock-down, drag-out argument with Caite at the finish line, while Carol hid her face in embarrassment.
Once again, I can't say I'm not disappointed that Jet and Cord, whose skill and attitude impressed me all throughout this race, came in second, but congratulations to Dan and Jordan all the same for running a flawless race in the final leg. What did you think? Share your thoughts on video, or in the comments below.