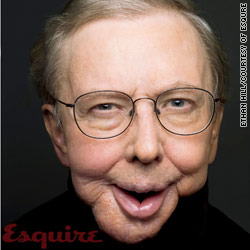 Movie critic and cancer survivor Roger Ebert has run afoul of some proclaimed Tea Party supporters and things turned ugly.
Gawker.com has some of the tweets which document the skirmish. It all started after Ebert took to Twitter last week to comment on a story about five teens who were sent home from their high school after wearing American flag t-shirts on Cinco de Mayo.
"Kids who wear American Flag t-shirts on 5 May should have to share a lunchroom table with those who wear a hammer and sickle on 4 July," Ebert tweeted from his @ebertchicago account.
Gawker reports that what followed were some pretty harsh responses from those who took offense. Tweets like "I mean honestly. How many pieces need to fall off @ebertchicago before he gets the hint to shut the (expletive) up" and "You know, @ebertchicago, I'm not as expert on flag etiquette as you. Tell me, which do I fly when you die of cancer?"
Ebert lost part of his lower jaw to cancer and has not spoken or eaten in several years.
The critic tweeted in response "Dear TeePee tweeters making fun of my cancer: You want ugly? For that, you have to look at a mind, not a face."
He also addressed the Twitter skirmish on his blog and even had some advice for the five students.
"That there are five of you in matching shirts demonstrates you want to be deliberately provocative," Ebert wrote. "Therefore, you and your buddies should try wearing the hammer and sickle on the Fourth of July. You could try it at a NASCAR race, for example."