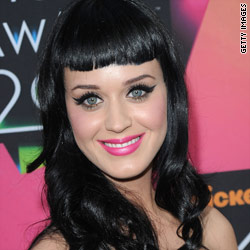 Katy Perry is on fire, and not just in her career.
The soon-to-be-wed pop star has been crowned the most beautiful woman in the world by the editors of Maxim because "she's sexy and talented," according to a press release from the publication. "She's the best friend you suddenly realize you've loved your whole life."
Perry, said Maxim EIC Joe Levy in the statement, is a "triple – no quadruple – kind of hot. It's that feeling you get when you suddenly realize that the smartest, funniest, coolest girl you know also happens to the best looking and a pretty good skateboarder, too."
Following Perry in the top 10 are model Brooklyn Decker; actresses Zoe Saldana, Blake Lively and Megan Fox; singer Rihanna; Italian actress (and George Clooney's girlfriend) Elisabetta Canalis; actress Olivia Munn; reality star Kim Kardashian and model Marisa Miller.
But while these women may be riding high this year, there's no telling where they'll end up the next. Last year's list-topper Olivia Wilde has dropped to No. 20, behind Eva Mendes, "The Hills" star Audrina Patridge, Scarlett Johansson, Amanda Bynes, Selita Ebanks, Leighton Meester and Christina Aguilera.
For the full list, head to Maxim.com.