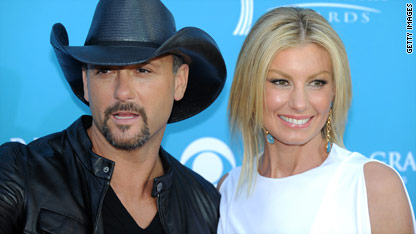 testing captions
(CNN) - Country music stars Tim McGraw and Faith Hill announced Monday they will spearhead a benefit concert for flood recovery at the Bridgestone Arena in Nashville, Tennessee, next month.
"On Tuesday, June 22nd, the Music City community will unite to assist victims of the floods that ravaged Nashville and Middle Tennessee earlier this month," McGraw and Hill said in a news release.
Tickets are to go on sale May 14 and are to be priced between $25 and $75. The concert is to include "numerous other artists," the release said.
"The damage that we've seen to people's homes and the effect that the flooding has had on their lives is unimaginable," the couple said in the joint statement. "But we've seen the spirit of our community first hand, as
volunteers, church groups and our local business leaders rally to help."
In addition to Hill and McGraw, the release said, confirmed performers include Jason Aldean, Brooks & Dunn, Luke Bryan, Miley Cyrus, Amy Grant, Miranda Lambert, Lynyrd Skynyrd, Martina McBride, LeAnn Rimes, Michael W. Smith, Taylor Swift and Carrie Underwood.
Confirmed "special guests" will include Jeff Fisher, head coach of the NFL's Tennessee Titans, and Barry Trotz, head coach of the NHL's Nashville Predators.
Twenty-three people have died from the recent storms and flooding in Tennessee, state emergency management officials have said. The federal government has declared 42 counties disaster areas and flooding has been blamed for more than $1.5 billion in property damage in the Nashville area.
As of Sunday, 17,000 people had requested assistance from the Federal Emergency Management Agency.
More than $4 million in federal assistance already has been approved for individuals, Homeland Security Secretary Janet Napolitano said Saturday during a visit to the region.