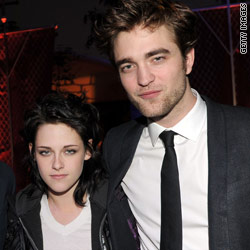 Parents have to draw their inspiration for baby names from somewhere, so why not a novel about vegetarian vampires?
Or, perhaps, we're simply searching for a reason to explain why anyone would name their son Cullen.
Either way - whether it's the parents who have been reading too much "Twilight" or the employees at the Social Security Administration - there's no denying that the name Cullen did see the biggest jump in popularity on the list of 2009's most popular baby names for boys. There's only one other popular figure with that name, and that's Edward Cullen.
Likewise, Bella Swan's full name, Isabella, also wound up on more birth certificates last year, making it the most popular baby name for girls in 2009.
If it's true that parents look at their newborn children and for whatever reason, think of pop culture, that would explain why Emma – the name "Friends" characters Ross and Rachel gave their daughter on the NBC series – jumped to the top 10 in 2002 and was in the No. 1 spot before being bumped to No. 2 this year by an awkward teenager with supernatural love fetishes.
A name that has yet to crack the top 10 but is on its way up is Isla, likely inspired by popular actress Isla Fisher, the Social Security Administration said. The name saw the second fastest rise among girls, following Maliyah, a variation on President Obama's oldest daughter's name, Malia.
A name on the way down, however, is Miley – as in Cyrus, the SSA points out. A variation of the name, Mylee, also saw a significant drop in popularity and is the second biggest decrease for the gender in 2009. Let's hope baby name popularity doesn't foreshadow one's career.