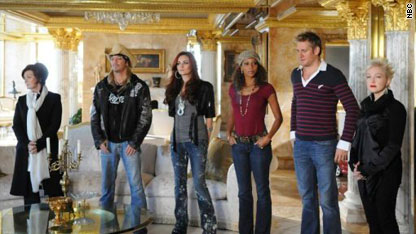 I knew it was going to be a long night when none of the remaining celebrities wanted to be project manager of this week's challenge. They were told to decorate an apartment in celebrity style, especially one room. One of the judges would be designer Jonathan Adler.
I immediately hoped none would be inspired by Donald Trump's gaudy New York apartment, the location of this week's opening scene.
Since Sharon Osbourne and Maria Kanellis said they couldn't stand the sight of Curtis Stone last week, Trump made sure they worked together as RockSolid. Osbourne served as their project manager.
That left Bret Michaels, Holly Robinson Peete and Cyndi Lauper on Tenacity's team. Peete said she didn't want to be the project manager, but she became it since she knew Adler's work.
So, once again, it was an Osbourne vs. Peete showdown. Not! Early on, both Osbourne and Peete knew what they wanted in their respective apartments. Osbourne wanted clean, conservative lines in colors and furniture, but an expensive look.
Peete wanted a Zen feel and theme. To get along with Lauper, she gave her a red, wild, celebrity room to decorate.
So, I stared at the clock, bored, wondering why in the world this show was two hours.
That is, until the winner of the challenge was announced. RockSolid was the clear favorite. That meant Peete, Lauper or Michaels would be eliminated. I was awake again!
Peete said Lauper should be fired instead because she believes she is hard to manage. Trump told her Lauper's room was the best one in the apartment. Lauper really defended herself, saying Peete was the difficult one. During the discussion, however, Lauper mentioned that red was Peete's idea. The Trumps questioned why she didn't keep her mouth closed and continued to let them think the entire idea was hers. Meanwhile, Michaels said very little, which Peete didn't like, and she said so.
For just a little while, it seemed like Bret Michaels was going to be the victim, which would've been a shame. He continues to still do more on each challenge than most project managers. On this task, he turned his personal photos into great art of New York. I would love to have that on my walls.
In the end, Trump fired Lauper for being honest. If you fire someone for being honest, what does that make you? Hmm…. Peete dodged a bullet.
Who should be eliminated next? Post your comments.