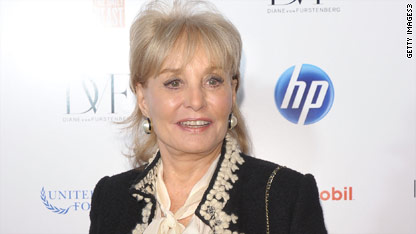 Talk show host Barbara Walters announced Monday she will undergo surgery this week to replace a faulty heart valve.
"I have known of this condition for a while now, and my doctors and I have decided this is the best time to do the surgery," the 80-year-old co-host of ABC's "The View" said at the opening of Monday's program, which was dedicated to "Hot Topics."
"I love you all, and that's my hot topic for this morning," she told her studio audience after announcing her plans. Walters predicted she would be gone from the show for one to three months, "and then I can come roaring back."
Walters said an echocardiogram had revealed that one of her heart valves "was getting tighter and smaller," though it had not caused her any symptoms.
Asked if she was scared, Walters said, "I don't think I'm really scared. I'm glad it's going to be over with. It's going to be taken care of, and it's been on my mind for a long time."