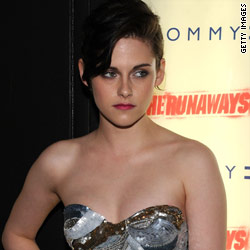 Kristen Stewart has been everywhere this week, from the Met's costume gala to ELLE magazine, and now she'll be "On the Road."
The queen of supernatural love triangles has been cast as Marylou in a film adaptation of Jack Kerouac's novel of the same name, according to THR. Brazilian filmmaker Walter Salles is at the helm of this movie, which will follow the cross-country adventure of Kerouac's alter-ego Sal Paradise. Stewart will play the wife of Paradise's friend, Dean Moriarty.
Mila Kunis and Justin Timberlake will be "Friends with Benefits" in the upcoming romantic comedy written by Will Gluck, according to Variety. The premise for the movie appears to be exactly what it sounds like: Kunis and Timberlake portray two friends who run into complications when they try to make their friendship work with a few extra benefits on the side.
And now for two men who are making the move from the small screen to the cinema, with the first being E!'s Joel McHale, who was cast in "What's Your Number?"
The romantic comedy, also starring Anna Faris, tells the story of a woman who looks back at the past 20 men she's been involved with to see if one of them may be her true love. According to THR, McHale plays "the mildly charming boss" that Faris accidentally sleeps with (if you're wondering how one "accidentally" sleeps with another person, we're not entirely sure ourselves).
"Project Runway's" Tim Gunn will hit the big screen in 2011 in "The Smurfs" as an executive assistant at a major cosmetics company, according to Variety.