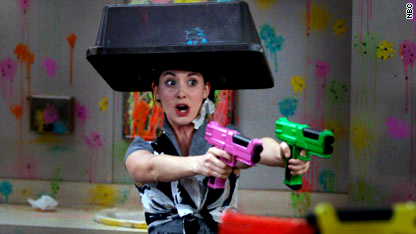 Like many viewers, I imagine, I didn't quite know what to make of "Community" when it premiered last fall. At first, it was just a comedy about members of a community college study group, a vehicle for Joel McHale and Chevy Chase.
Then, it turned out that their community college's mascot was the "Greendale Human Beings" (to avoid offending anyone) and the Spanish teacher, Senor Chang, spent much of his time playing sadistic mind games with his students (like faking his own death, just to prove that he can "never die.") There has never been such a collection of bizarre characters, and just as the name implies, it's grown into a strong ensemble show.
One thing that "Community" excels at, and then some, is parody and pop-culture references - many of which come from the TV-obsessed Abed, who often comments on the action.
In Thursday night's episode for example, he noted the sexual tension between Jeff and Britta and commented that they're no Ross or Rachel (Shirley commented that they were no Sam and Diane either, and Annie asked who Sam and Diane were).
Jeff went to take a nap in his car and after waking up in a "post-apocalyptic world" of sorts, followed one of the sharpest parodies this show has pulled off yet... rivaled only by the takeoff on "GoodFellas" a few weeks ago. With the promise of priority registration ("You can schedule all your classes on Monday and take a six-day weekend!"), the entire campus became a paintball war zone.
It was all there: references to war movies (the point where all the characters talk about what they'll do when they go home), John Woo (a standoff with everyone pointing guns at each other), Michael Bay (slow-motion sequences abound), and "Terminator" ("Come with me if you don't want paint on your clothes.")
In the midst of all this, the "will-they-or-won't-they" status of Jeff and Britta landed decidedly in the "will-they" column, after they were two of the last people standing untouched by paint. As one might expect, they are keeping their moment of passion in the library a secret, but Abed immediately sensed something was different about them.
Very bold of a show to go there in its first season, especially when it's been renewed for a second. Then again, "Community" is more interested in being funny than character development, which is still its main flaw.
Also, can I just ask, how awesome is Ken Jeong as Senor Chang? When he came in as a ringer to take out Jeff and Britta, doing his best Chow Yun-Fat, it was just the latest of many scenes he has stolen during this show's run. Here's hoping that he sticks with "Community," despite his growing popularity in movies like "The Hangover."
Are you enjoying "Community" more with each episode, like me? Let us know what you thought of last night's paintball extravaganza, and some of your favorite "Community" moments, in the comments below.