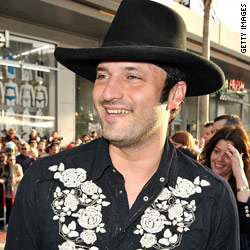 Happy belated Cinco de Mayo! If you're still recovering, be sure not to miss the "illegal" trailer crafted by writer/director Robert Rodriguez for his upcoming film "Machete."
Danny Trejo plays the knife-wielding hero, and he's got a special message in there, just for Arizona.
Before the Southwestern state made headlines by, as CNN.com notes, requiring "all immigrants to carry alien registration documents at all times and requiring police to question people if there is reason to suspect them of being in the country illegally," Rodriguez was toiling away on a Mexploitation film that touches on the same issue, to be released by 20th Century Fox on September 3, 2010.
The new trailer for the film, which features Jessica Alba, Robert DeNiro, Lindsay Lohan and Michelle Rodriguez, lays out the basic plot points: Danny Trejo's Machete is paid to assassinate a corrupt senator with an anti-immigration platform, but it's actually a set-up to reinforce the senator's call for harsh anti-immigration laws.
But, as the trailer says, those on the senator's side "soon realize they [expletive] with the wrong Mexican."
In a statement from Fox, the studio confirmed that Robert Rodriguez was indeed given the green light to make the trailer, but they didn't know exactly what he was going to do.
See the full trailer here.