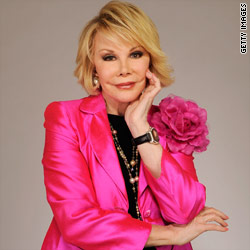 Comedienne Joan Rivers is not very happy flying these days.
In an interview with the Washington Times' Kerry Pickett, Rivers complains that she was recently stopped from boarding a flight from Costa Rica to New York while the man alleged to have attempted to detonate a car bomb in Times Square made it onto a flight before authorities arrested him.
"I find it ludicrous and pathetic that somebody can come in at the last minute, buy a ticket with cash, and slip through all of this, and they worry about me - that God forbid I might have a bagel taped to my waist," Rivers said. "I find this outrageous."
Rivers said she has been consistently stopped by airport security, in part she believes, because her passport reads Joan Rosenberg AKA Joan Rivers. Joan Rosenberg is her married name.
The former "Celebrity Apprentice" star said she has been traveling a great deal lately for her TV Land reality show "How'd You Get So Rich?" and it's been a hassle.
"Seriously, I have been on a plane where they have took away my tweezers ... my tweezers ... like I'm gonna pluck you to death," Rivers told the publication.