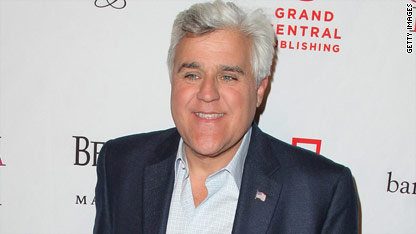 Forget love; late-night talk shows are the real battlefield.
First, Conan O'Brien went on "60 Minutes" to tell his side of the NBC saga, wherein he briefly mentioned what he would have done had he been Jay Leno - namely, not take the show back. While some may call that criticism, others may say that's having an opinion.
O'Brien then made another perceived slight at his former colleague while visiting the Google headquarters yesterday. O'Brien was chatting onstage with an interviewer in front of a crowd of 20-somethings, and the interviewer noted that some people in the crowd were so young, "they don't even know what the 'Tonight Show' is."
O'Brien responded, "Well, that's good, I like that. There's no reason to know what a 'Tonight Show' is anymore!'
Cue the thunderous applause that Leno perhaps took a little personally. On the "Tonight Show" Wednesday, he fired back at O'Brien – or, at the very least, O'Brien's followers – by pulling up the "Facebook page" of Faisal Shahzad, the Times Square bomb suspect.
During his monologue, Leno never pointed out that along with being a member of the Al-Qaeda and the Pakistan Frequent Flyers Club Facebook groups, Shahzad was on Team CoCo. Instead, he let it linger on the screen just long enough for those paying attention to catch it.
Perhaps time doesn't heal all wounds.