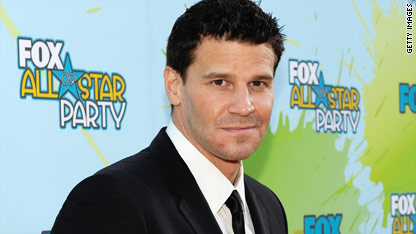 "Bones" star David Boreanaz is the latest high-profile husband to step outside of his marriage, and his decision has left him hurting, "Bones" creator and executive producer Hart Hanson said on Boreanaz's behalf.
"David Boreanaz has asked me to express to fans his sincere pain, thanks for support, and determination that his family will 'get thru this,'" Hanson tweeted yesterday.
On May 3, the actor admitted to cheating on his wife of nine years, Jamie Bergman. He told People magazine that his marriage "has been tainted by my infidelities. I just want to be open and honest. I was irresponsible."
Boreanaz spoke up because a former mistress had gained legal representation and was threatening to take her story to media outlets. "She asked for money," the 40-year-old said. "I felt as though I was being blackmailed or there was some sort of extortion."
Boreanaz added that he and Bergman are working on their marriage, an effort that his mother-in-law Sue Scallion supports.
She told E! News Tuesday that her daughter isn't considering a divorce. "My daughter's very strong. She told me one day, 'divorce just isn't an option'… They are going to make this work and keep the family together and raise the children," Scallion said.
She added, "Jamie and David, they've got a lot of work to do. But they love each other."