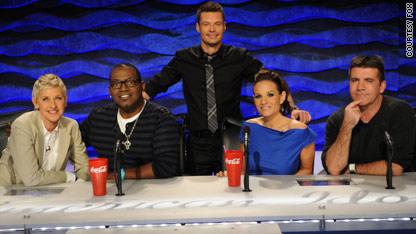 testing captions
"American Idol" may be a little shaky in the ratings these days, but they are still making lots of money for its parent network, Fox.
According to a Forbes story, the show is the biggest money maker on television in terms of advertising dollars.  Forbes estimates that in 2009 "Idol" generated $32.4 million for a two-hour episode, or $8.1 million per 30 minutes.
The report points out that ad purchases are made before the season begins and are therefore based on past performances and anticipated buzz.
And even thought "Idol" has been beaten a few times in the ratings game this season by ABC's "Dancing with the Stars," it still pulls in an average 25 million viewers to whom advertisers are anxious to showcase their products.
Coming in second place, Forbes said, is CBS' "Two and a Half Men" which generated an estimated $3.1 million, on average, per half-hour show.
Interestingly, "Idol" and "Two and a Half Men" have something in common as both are facing the loss of their leading men. Simon Cowell is scheduled to leave "Idol" after this season and "Two and a Half Men" star Charlie Sheen is reportedly considering not returning when his contract concludes at the end of this season.