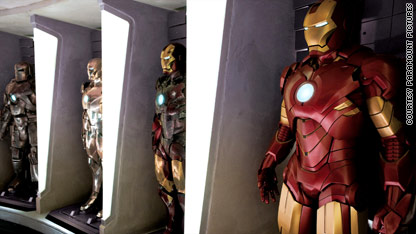 Thinking about catching a midnight showing of "Iron Man 2" tonight? Buy a ticket now, if you can find one.
Several of the midnight shows are already sold out across the country, according to online movie ticket seller Fandango.com. Theaters that are filled to the brim include New York City's AMC Loews Lincoln Square Cinemas, Chicago's AMC Loews 600 North Michigan, San Francisco's Metreon and Los Angeles's Universal CityWalk Cinemas. Tickets to the movie currently represent 92 percent of the company's daily sales.
Predictions for "Iron Man 2's" opening weekend gross are running high, with estimates coming in north of $158.4 million - more than current box office record holder "The Dark Knight," according to The Hollywood Reporter. The movie has already opened strong overseas, bringing in $100.2 million at the international box office.
Released in 53 foreign markets, the superhero sequel starring Robert Downey Jr., Scarlett Johansson, Gwyneth Paltrow and Don Cheadle had its biggest showing in the U.K., where it earned $12.2 million, according to Reuters, as well as $10.8 million in South Korea.
Check out early reaction from fans on iReport.