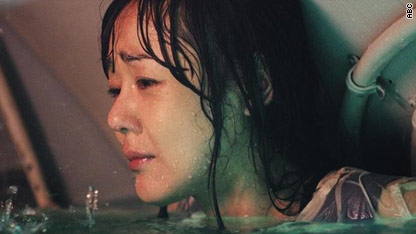 [Editor's Note: You know the drill by now. If you haven't seen this episode of "Lost" yet, DON'T READ ANY FURTHER.]
A time bomb on a submarine - now there's a formula for pulse-pounding TV. Tuesday night's episode of "Lost" brought out lots of raw emotion, from nail-biting tension to heart-wrenching sorrow.
There may not have been too many "answers" per se in this episode, but a lot was made clear: the Man in Black is a villain, Jacob is (almost certainly) a good guy, and... I really hope you're not reading this if you didn't see the episode... Jin, Sun and Sayid (and probably Lapidus) are dead. Rest in peace, indeed.
Before getting into all of that, there were some more interesting developments in the parallel timeline, especially the revelation that Locke lost his ability to walk, and rendered his father a vegetable, on his first excursion piloting a plane. Locke continued to refuse Jack's offer to help him walk again due to his guilt over this, but Jack told him the same thing Locke had told him - that his father was gone.
Meanwhile, Claire and Jack grew closer as siblings, and Jin made a brief cameo to remind us that he's still alive in this timeline.
Back on the island, the crafty Man in Black rescued those who had been captured by Widmore, then led them to the plane (brutally dispatching Widmore's men), found some C-4 and made sure that everyone knew about it. Despite all of this, Sawyer didn't trust him... something it turns out that "Smokey" was counting on: he successfully led all of the Candidates to the submarine, including Jack, tending to a wounded Kate, and carrying a surprise bomb from you-know-who.
This led to one of the most exciting sequences in the series' history as Jack, remembering his time at the Black Rock with Richard, was willing to bet all of their lives that doing nothing would prevent the bomb from going off, since none of them could be killed by the Man in Black. Sawyer, of course, wasn't taking that bet and ended up accelerating the timer.
Grabbing the timer, Sayid told Jack that he would need Desmond at the bottom of a well, and that "It's going to be you, Jack," before running to the other end of the sub with the bomb, which caused water to fill in, knocking out Lapidus and Sawyer, and pinning Sun down. As Jack swam off with Sawyer, Hurley and Kate also got away.
Jin stayed with his wife, refusing to leave her. "Titanic" had nothing on this scene, as the two died holding hands. Wow.
Some other things I noticed:
– Sayid getting a heroic end shows that as much as this show is about destiny, we're still free to decide between right or wrong (as Ben did earlier in the season, and Sayid had already started to do with Desmond). I'd say that was handled just about right.
– On the other hand, Jin and Sun's goodbye was so unexpected, it was one of the biggest punch-in-the-gut moments since season two. I have no doubt that more than a few fans are angry about that one.
– Jack might as well be wearing a T-shirt that says "I am the new Jacob," and Sayid's last words certainly added to that.
– The Man in Black and the abandoned Claire are back together again after all this time. He seems to sense that some candidates (three, to be exact) are still alive because he's still stuck on the island.
– Meanwhile, Locke muttered something in his sleep about pushing a button in the parallel timeline, and seemed to stop for a moment when Jack told him that he wished he had believed him. I'll certainly give them this - I find myself caring about the flash-sideways almost as much as what happens on the island now.
– Another callback: Jack telling Locke "what happened, happened."
– Great to see Bernard the dentist pop up in the parallel timeline.
– Cool Jack scene of the week: Telling the Man in Black that he was meant to be on the island, because "John Locke told me I needed to stay," before knocking him into the water.
– Kate is definitely not a candidate, but why? Still no answers there.
– Does this make the issue of which Kwon is a candidate completely moot? Not necessarily, according to a conversation I had with Daniel Dae Kim recently. More on that soon (watch this space).
– I think it's high time we checked in with Richard, Ben and Miles, don't you?
– If Lapidus truly is dead as well, let's take a moment to remember him as well - the best pilot since "Sully."
It looks like we're getting a heaping helping of answers next week about Jacob and the Man in Black, and none too soon. Share your thoughts on video or in the comments below (and while you're at it, there's still time to tell us how you think "Lost" should end).