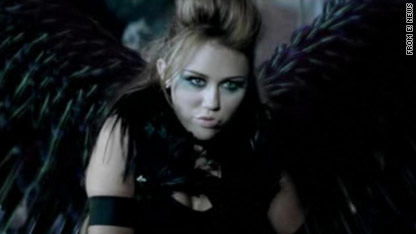 In a not-so-subtle music video for her new single, "Can't Be Tamed" - the first track from a soon-to-be-released album of the same name - Cyrus emerges as Aves Cyrus, an oversized creature wearing an impressive wing span and little else, stepping away from the nest and the cage she'd been holed away in.
"For those who don't know me, I can get a bit crazy, have to get my way 24 hours a day cause I'm hot like that," Cyrus sings. "Every guy everywhere just gives me mad attention, like I'm under inspection, I always get the 10s cause I'm built like that."
Welcome to the next evolution of Miley Cyrus.
As the 17-year-old told E! News, "I don't want to be in a cage. I want to be free and do what I love…I want to make the movies and the music that I want."
Some have been a bit riled by the fact that Cyrus's moves, alongside her backup dancers, are fairly suggestive, as is her choice of costume. But, Cyrus said that while "it is a sexy video...that's not the premise. It's not about being sexy or who can wear less clothes. It's about explaining the song and living the lyrics instead of just being like, this is about me."
As for her teen fans, she thinks they'll get it since the song is about not fitting in. "For me," Cyrus said, "it's never been about fitting in. I'd rather stand out than fit in."