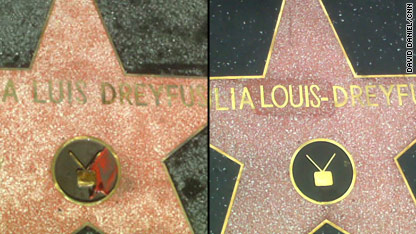 So yesterday, I noticed a mistake and tried to correct it.  That's what copy editors do.  Usually, it ends there.  Not this time.
After the hastily fixed Julia Louis-Dreyfus star was unveiled and CNN.com published my little item, I turned back to my other daily tasks.  But then my inbox began filling up.  Friends and co-workers were spreading the story around the Web.  I heard back from a delighted Ana Martinez-Holler at the Walk of Fame: as it turns out, she mostly goes by Ana Martinez for professional purposes.  (Just a big day for bungling hyphenated Hollywood names, I suppose.)
And other websites wanted to run the story – and my exclusive photo of the misspelled star.  Some, properly, asked for permission; others (naughty, naughty!) just went ahead and reposted the pic, sometimes but not always including a photo credit.  I spent half of my afternoon calling and emailing various CNN executives, trying to make sure the responsible journalists could run their stories.  The less scrupulous ones, of course, already had.
By the end of the day, my BlackBerry and I both needed recharging.  It rang when I was nearly home, but the screen said "Unknown Number" and I wasn't in a good place to take the call, so I let it go to voice mail.  When I got home, I checked the message, and heard a familiar, animated voice:
"Hi, David! It's Julia Louis-Dreyfus calling, and I can't believe that you were the one who noticed this misspelling today.  I am just blown away by this, and I'm so happy that you got the picture of it!  This was just forwarded to me.  I'm beside myself!  And I so wish they'd left it down, wrong, because it would have been a fabulous, fabulous story like that.  But it already is a good story, and thank you so much for noticing the error, and taking a photo of it.  Give me a call if you can... I'd love to talk to you!"
After reeling for a minute, I called the number she'd given (a publicist), and soon I was chatting with Louis-Dreyfus.  Her voice had that unmistakably enthusiastic Elaine Benes tone, almost giddy – I half-expected her to tell me "Get OUT!"  (Hey, I'm just delighted she found the blog "call-worthy.")  She repeated how amusing she found the whole turn of events, and how she wished they'd left the mistaken spelling for the ceremony: "I'd have taken a Sharpie and fixed it myself, right there!"
Today, after writing this up and snapping an "after" photo of the star to go with my "before" shot, it's back to my usual tasks.  No Emmy-winning stars are likely to call – though I did just hear from a photo agency that wants to redistribute photo #1, so maybe there are a few seconds left in my 15 minutes.  Moral of the story: watch where you're walking!  You never know what might happen...