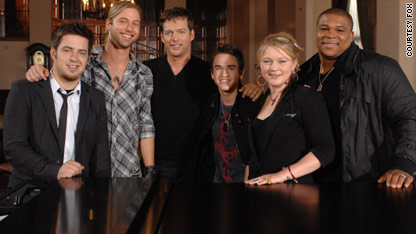 testing captions
SPOILER ALERT!!! Tonight's blog entry will reveal the contestant being sent home from "American Idol." Don't read any further if you don't want to know the results.
9:55 p.m. – The results are in and the person leaving tonight is ...
Aaron Kelly!
I am freaking out right about now. I can't even believe it.
I love that "Big Mike" takes some time to share some words with him. This is so wrong on so many levels.
9:48 p.m. – The lights dim, and MamaSox has to start a group over by the piano. Oh these wicked games!
"Big Mike" is next, and he has to start a group in another part of the stage. Seacrest has Aaron Kelly stand and he has to go to "Big Mike's" "group." That leaves Casey James to go and stand with MamaSox.
Seacrest tries to get Lee to choose. Come on, you know he is not going to do it!
And the bottom two are....
"Big Mike" and Aaron!
What?!?!? Are you kidding me?!?!?
9:32 p.m. – Harry Connick Jr. is hysterical!
I love that he called the judges out for their overuse of "pitchy." He looks super serious when he's singing "And I Love Her."
He is such a throwback to the cool cats. Harry is definitely the heir apparent to Sinatra.
But what a strange flow to go from Gaga to Harry. The audience seems to be digging it though.
He totally takes over the stage, and if I was Seacrest, I would be a little nervous right about now cause this dude could easily come on, host, mentor, judge, arrange and lead the band.
The Top 5 sing a melody of Harry's songs, and they sound great. If Casey had sung like this last night, I wouldn't be predicting his ouster tonight.
9:22 p.m. – Yay Lady Gaga!
She's rocking the haute couture beekeeper/sex kitten look. After giving us a little taste of "Bad Romance," she launches into "Alejandro." Is it me, or is this an updated "La Isla Bonita?"
Gaga's dancers even look like Madonna's back-up crew. It's like she's Madge's kid paying homage.
9:15 p.m. – We jump right into the results after we hear from "Big Mike" Lynche and Casey James as to how they feel about Wednesdays.
First up on the hot seat is Lee, who says "you know" quite a bit. Poor nervous dude.
I don't buy for a minute that Simon doesn't like to watch himself on TV. He loves it! I agree with his remarks about Lee's new-found confidence.
Lee is safe and takes his on the stool of success. He looks kind of freaked out.
9:09 p.m. – Everyone does look lovely in their Rat Pack gear.
Hey, there is a mention that Lee DeWyze worked at a paint store. Wow, is this some type of drinking game or something?
I like the backstage look at what the contestants have to deal with on Tuesdays. Where in the world did they find those stand-in judges? That was hilarious!
9:02 p.m. – I like the little Sinatra medley.
Poor Crystal "MamaSox" Bowersox has to carry on solo for the ladies. Way to represent for the ladies, MamaSox – even if you are lip synching.
Seacrest interviewed Harry Connick Jr. as the "guest mentor and band leader." I could very easily get used to hearing the second half of that description.