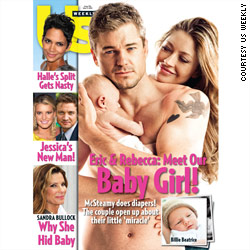 Eric Dane and Rebecca Gayheart are ready to show their new baby girl off to the world, and they apparently don't need to wear clothes while they do it.
A shirtless Dane poses with their 2-month-old daughter Billie Beatrice Dane on the cover of Us Weekly with Gayheart standing right behind him, gazing down at the baby she gave birth to on March 3.
"She's beautiful," Dane told the magazine. "When she came out, she was really alert and her eyes were open. The doctor gave her to her mom, and I was so ... you know, I was obviously very emotional."
The birth, Gayheart said, was "an overwhelming moment – probably the greatest of my life so far. We felt so blessed."
It's also changed Dane's outlook on his acting career. "I like to think of myself as an artist - but now I'm working for my kid. Now I'm a father. I've got a lunch pail, I go to work and I come home and I make sure my kid is taken care of, and I make sure my wife is take care of," the 37-year-old "Grey's Anatomy" star said.
For more photos of Billie and to read the full story of her birth, pick up the latest issue of Us Weekly, on sale Friday.