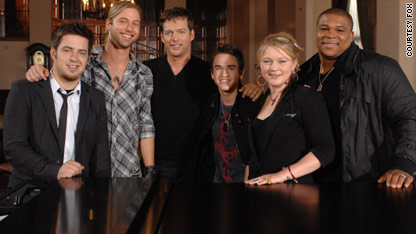 testing captions
8:54 p.m. –
I totally see the resemblance between Harry and Lee DeWyze.
Lee sings "That's Life" and he makes it resonate. He's giving me a little Michael Buble with the hand gestures and the stroll. It worked well with the organ Harry was playing.
Great moment when Harry hugs him and then playfully pushes him off with a "That's what I'm talking about!"
Lee is going for broke and I love that.
Good Lord, I thought we might be able to go one week without being reminded that Lee worked in a paint shop, but it was not to be. No more, please!
8:43 p.m. – Nice look "Big Mike" Lynche.
He is rocking the hat. Me likey.
Harry is really working with these singers. I like his style in directing them.
"Big Mike" sings one of my favorites "The Way You Look Tonight." This is where I think the "Big Mike" ego will come in handy. Sinatra was no shrinking violet, and neither is our "Big Mike."
Even Harry has to give him some love for that vocal. It was fire!
Swagger, thy name is "Big Mike" tonight.
8:33 p.m. – Sir Anthony Hopkins is in the audience?
How freakin random is that?
Crystal "MamaSox" Bowersox sings "Summer Wind" and I love that she won't tell Harry why the lyrics mean so much to her.
She looks great in her dress and she sings that song like the rent is due!
Casey may not have been able to hear himself sing and nail the notes, but Crystal worked it out. I disagree with Randy: I thought she sounded pretty darn good.
Simon calls it "indulgent." These judges are tripping. MamaSox is one of the few this season who knows who she is as an artist and she knows what she wants to do with a song interpretation.
Way to do you, MamaSox. Even if you were a little sassy.
8:22 p.m. – They are giving Harry a lot of freedom and rightfully so.
He's a great mentor so far. The man knows his music.
How funny is it that one of Casey James' friends didn't know he's on "Idol" and called him for  a gig?
Casey sings "Blue Skies" and it starts a little rough. He seems super nervous and the band seems like it's overwhelming his vocals. When you are singing with this orchestra, you have to own the song.
Hmmm. I didn't love it. And his little vibrato irked me to no end. Casey is in trouble again.
And I think Ellen is gonna get in playful digs at Harry throughout the show. They are old friends, both being from the same city.
8:11 p.m. – What a wonderful reception for Sinatra's daughters Tina and Nancy.
They give Simon a monogrammed hankie that belonged to their dad. That is wicked cool!
Our first performer tonight is Aaron Kelly and he sings "Fly Me to the Moon." Sinatra was quite the teen heartthrob and I can see Aaron being one too.
He vibes well with the Harry Connick, Jr. trio, he looks adorable and he sounds pretty good. Very jazzy and not country like he usually rocks.
Harry looks on like he's waiting for some serious critique. I dare one of the judges to criticize the arrangements tonight.
I agree with Simon that Sinatra was the "King of Cool" and had swagger, but there is no way they can expect any of the contestants to match that tonight. There will only ever be one Sinatra.
8:06 p.m. – Harry says the Top 5 were "humble."
Yeah, they just ought to be.
I love Harry's N'awlins accent. And he is so tall and cute. Then again, just about everybody looks tall standing next to Seacrest.
Can you tell I totally have a crush on Harry? Something tells me I will be rocking the "When Harry Met Sally" soundtrack on the old MP3 player tonight.
8:02 p.m. – Wow. Harry Connick, Jr. has sold over 25 million records. He's awesome.
Very nice clips of Sinatra. He was such the man!
Harry is arranging the songs tonight. How cool is that?
Bear with me as I suspect I will be using the word "cool" a few times tonight.