I'm a longtime copy editor, and I take the Metro to work.  As a result, I made one person laugh hysterically today, and another almost vomit.
Let me explain.
As I emerged from the Hollywood and Vine Metro station this morning and headed for the CNN Los Angeles bureau, I noticed two workmen cleaning off the newest star on the Hollywood Walk of Fame for the 11:30 a.m. unveiling ceremony.  It was for Julia Louis-Dreyfus, star of "The New Adventures of Old Christine" – and the first "Seinfeld" alum to receive a star on the Walk of Fame.  I glanced at it as I walked by... then stopped, and peered more closely: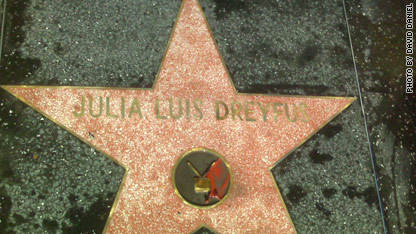 testing captions
"Um, excuse me," I said to the workmen, "but I'm pretty sure that star is missing an O.  And a hyphen."
They were startled, and a little unsure what to do – after all, the ceremony was in four hours, and you can't just print up a new star at the local CopyMart.  I snapped a pic with my BlackBerry, then hustled to work and called Ana Martinez-Holler, the press rep for the Hollywood Walk of Fame.  "Are you sure?" she gasped, and then, understandably, she hurried off the phone.
A couple of hours later, Ana called me back.  "Is everything okay?" I asked.  "Well, I almost puked in my car, but otherwise, yeah," she replied.  It turns out Louis-Dreyfus thought the mistake was hysterical, and wanted them to leave it, but they'd already chiseled out the "Luis" and put a temporary "Louis-" in its place for the unveiling.  It wasn't shiny and perfect, but at least they got her name right.
Ana said they're going to give the "Luis" to Julia as a memento.  I was kind of hoping for that souvenir, but at least I've played a small part in Walk of Fame history... and have a reason to smile every time I walk to and from the Metro station each day.