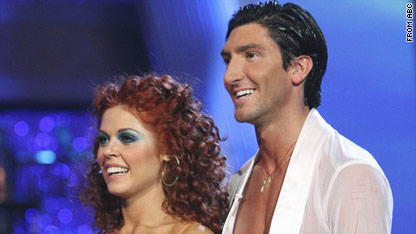 testing captions
Skating champ Evan Lysacek was perfection last night on "Dancing With the Stars." Literally.
A week after suffering a concussion and receiving his first disappointing scores, Lysacek came back big with a stunning Argentine tango that had all three judges flashing their "10" paddles.
Hair slicked back and dressed in an elegant suit with a bow tie, Lysacek seemed to be born to dance the tango, offering some real competition for singer Nicole Scherzinger, who has been dominating the show for most of the season. "You danced like a true alpha male," said judge Bruno Tonioli after Lysacek's performance prompted a long standing ovation from the audience. Judge Carrie Ann Inaba called the routine refined and sexy.
Scherzinger's waltz also drew lots of compliments. In fact, all of the couples did so well last night that it's hard to pick someone who should go home tonight.
ESPN correspondent Erin Andrews' fun quickstep with professional partner Maksim Chmerkovskiy was described as "brilliant" by the judges, though the performance was almost overshadowed by the couple's bright salmon-colored costumes that were revealed during the routine.
Football star Chad Ochocinco, dressed in gauzy white, performed a romantic Viennese waltz that prompted judge Len Goodman to remark that this was the night Ochocinco became a contender for the mirror ball trophy.
Actress Pamela Anderson's pretty waltz was described by Tonioli as the "pure essence of romance," while comedienne Niecy Nash's fun quickstep was called her best dance so far.
Then it was on to the "Cha Cha Challenge," in which the celebrity contestants were split into "Team Gaga" and "Team Madonna" and danced as groups to hits made famous by the two women: "Telephone" and "Holiday." Both were fun to watch, though what's the obsession with some of the stars trying to do splits? Anderson's seemed painful.
Who do you think should go tonight?