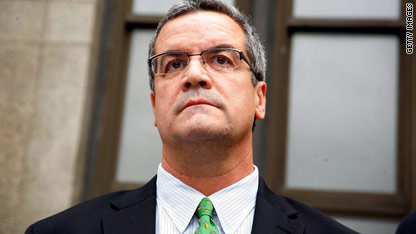 Robert Joel Halderman knew the jail time a New York judge would give him Tuesday when he was sentenced for trying to blackmail comedian David Letterman about the "Late Show" host's sexual affairs.
The former CBS news producer admitted guilt in March to attempted second-degree grand larceny in exchange for a promised sentence of six months in jail, five years' probation and 1,000 hours of community service.
After formal sentencing in Manhattan Tuesday afternoon, Halderman was escorted to jail to begin serving his sentence, according to a spokeswoman for the district attorney.
Halderman, who was a producer for "48 Hours," admitted that he tried to extort $2 million from Letterman in exchange for keeping quiet about Letterman's affairs with female staffers.
The prosecutor said Letterman, through an attorney, gave Halderman a $2 million check in October and Halderman deposited the money into a Connecticut bank account the day before he was arrested.
Letterman announced the extortion plot on his CBS show in October and admitted he had affairs with female staffers.
Halderman, appearing in court for his plea, expressed "great remorse" and apologized to Letterman and his family and to the family of Stephanie Birkitt, one of the women Halderman said had engaged in a sexual relationship with Letterman. Birkitt was an assistant to the talk show host and was Halderman's former live-in girlfriend.
The 27-year CBS veteran initially had been charged with first-degree attempted grand larceny, to which he pleaded not guilty in October. He could have faced 15 years in prison if convicted.
"This is a serious sentence that properly reflects the crimes that Mr. Halderman has now admitted that he committed, and it is a fitting end to the case," Letterman lawyer Daniel J. Horwitz said after the guilty plea was entered.