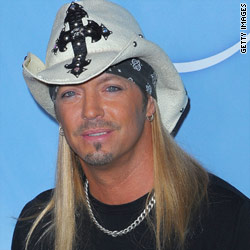 Bret Michaels has been released from the Phoenix, Arizona, hospital where he has been treated since suffering a massive brain hemorrhage 12 days ago, his neurosurgeon said Tuesday.
Doctors "are feeling pretty confident" that Michaels will not suffer another hemorrhage and will fully recover, Dr. Joseph Zabramski said.
The rock singer and reality TV star faces four to six weeks of rest before he can resume a normal schedule, the doctor said.
His road manager announced last week that Michaels might be able to resume his concert tour on May 26, but his doctor said he asked Michaels to take it easy.
"I made him promise he wouldn't make any promises," Zabramski said.
Michaels was rushed to Barrow Neurological Institute in Phoenix after he suffered a severe headache at his home on April 22.
"Mr. Michaels was indeed a lucky person, a very lucky person," Zabramski said, noting that 15 to 20 percent of those who suffer such ruptures don't live beyond the initial attack.
While Michaels may have felt much better several days ago, he is going through an expected period of severe back pain and spasms caused by a condition the doctor called "chemical meningitis."
"The blood [that hemorrhaged in his brain] is starting to dissolve, which is very irritating to the brain and spinal cord," he said. "He's really suffering now."
"It takes about seven to 10 days more from now before this blood will completely dissolve and he'll really feel like he's on the mend and can resume all of his activities," he said.
The doctor, who would not reveal where Michaels went to continue his recovery, said he's "not walking very well, but he is talking very well."
Michael's "sheer will to live" kept him alive long enough to allow doctors to stabilize his condition after he suffered the rupture, his doctor said last week.
"He has an unbelievable fight in him and told me what kept him alive at the moment of the hemorrhage was that he 'did not want his family to wake up and see him lying unconscious in the middle of the floor,'" Zabramski said.
Michaels, 47, was the lead singer for the '80s glam-metal "hair band" Poison. He became a reality TVstar by headlining the VH1 show "Rock of Love with Bret Michaels." He has also appeared on "Celebrity Apprentice."