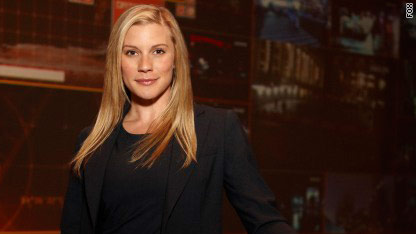 "24": Day 8 - 11 a.m. to 12 p.m.
Today is a wonderfully beautiful, fantastically awesome day. Why you ask? Well, let me be the first to tell you. Today is wonderfully beautiful and fantastically awesome because after last night's episode of "24," Dana Walsh officially sleeps with the fishes.
If you saw the episode, you already know Dana didn't die a death exactly similar to Luca Brasi from "The Godfather," but as far as I'm concerned, that doesn't matter one bit. Whether you put it in haiku, spoken word or interpretive dance... ding dong, the witch is dead!
Right about the time she asked Jack her last question ("Jack, tell me what I can do?"), Bauerites far and near were gearing up for what we've been waiting for - the end of Dana Walsh.
Many readers have been dutifully planning for this big moment, and it finally arrived.
A few blogs back, I even recall one faithful Bauerite's promise to "dance a jig" and hold a "Dana is dead" party the day after she was offed. Well, the writers delivered, so by all means send me an e-vite. I'm so in!
In retrospect, I should have seen it coming. The hour got going fairly quickly with Dana being tortured while the opening credits were still rolling. That was a sign, but I had no idea exactly how things would play out.
As things moved along, the show went about its business. I thought the writers did a fine job giving us some compelling scenes to chew on while the action was fast and furious. Jack and Cole's infiltration of the bad guy's hideout was clever and well-played, up to (and including) the part where Jack impersonated the guy on the radio sending the troops in another direction.
The quick standoff between Jack and Bledsoe was also a sharp moment. Nothing says "Jack means business" better than a bullet to the temple as Bledsoe tells him he "won't take the --." Now that's how its done.
Of course, Dana eventually slips away with a few savvy moves at the bank, but she can't/won't get rid of Cole. I thought that little moment of endearment for him was a bit corny, but it couldn't kill a good scene overall.
Elsewhere, former President Logan's underhandedness has reached new heights and he's really good at being really bad. Sending his personal aide (read: henchman) to personally attend to the demise of Jack Bauer was an interesting stroke, but it just may buy him a box to be buried in by the show's end. If we know Jack, we know he'll connect the dots, and the way things are going, that will equate to a red dot on Logan's forehead. As stated previous, "Jack means business."
Aside from that, can we talk about Logan's inexplicable hold on President Taylor? I watched him guide her in that conversation and wondered aloud "Madame President, what is your deal?" For the record, I've been known to wax poetic on President Taylor's grace and business-like demeanor in the face of a crisis, but this is ridiculous. I take it all back since she's fallen prey to that "Ol' Logan charm". Get a grip lady.
Logan's henchman/aide assuming point at CTU (effectively stripping Chloe of her authority) was pretty much par for the course. I figured Chloe's reign would be short-lived (somewhere in the neighborhood of 3 hours), but she may just end up back on top when the dust settles. After all, her management style - full of "Because I said so, idiot" retorts to Arlo's questions - is refreshing and worthy of the crown. She shall return.
Overall, this was a very good episode. There was a nice amount of fast-paced action that brings us closer to the end with only 4 hours remaining. As we talked about a few blogs ago, I'm still contemplating my TV life after "24" and actively seeking a suitable replacement. I'm dating a few other shows off and on, but not going steady with any just yet, so be sure to suggest your favorites. The end is drawing near.
Oh, by the way... What's that? Say again? Dana's dead? Copy THAT!
Loved, kinda liked or hated the show? Let us know.