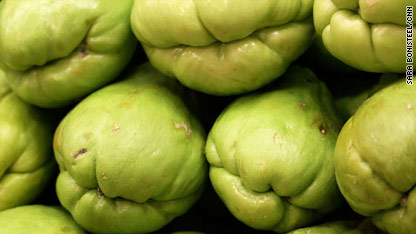 testing captions
It's Christmastime in New Orleans, but only John Goodman's in a festive spirit. Four months after the storm, things are far from 100 percent and it's fraying the nerves of the characters in "Treme."
Creighton Bernette (Goodman) has taken to YouTube for a Barq's root-beer fueled rant; Janette DeSautel's restaurant is forced to close for a night because the gas to the stoves won't stay on; Albert Lambreaux can't get his insurance money; and Davis McAlary loses a wheel and some musical equipment because of a "Cave of Mystery" pot hole on the West Bank.
The characters are surviving – in this episode, on coffee. They've chosen Cafe Rose Nicaud on Frenchman Street as the coffee stand of choice. While it is December, I suspect many of those patrons are drinking cold-brewed iced coffee. It's a year-round kind of drink in the Crescent City.
The mirliton got a cameo. (This strange fruit masquerades as the chayote in other places.) Albert Lambreaux is pleasantly surprised to find one at dinner with his neighbor. This green gourd is so loved in its stuffed form, it has its own festival in the Bywater neighborhood of New Orleans.
And in episode four, someone's been cheating on Crystal. A couple of weeks ago Crystal Hot Sauce popped up on the table at Gigi's Place, but in this latest episode, it's gone. When Ladonna Batiste-Williams serves up a plate of red beans and white bread to her ex, he douses it in Original Louisiana Hot Sauce.
Although not food related, it's worth noting that this episode used the song that encapsulated the frustration felt by many Gulf Coast residents displaced during this time – Fifth Ward Weebie's bounce anthem "F- Katrina."
Here's a guide to the local products and restaurants in episode four of "Treme":
Barq's Now owned by Coca-Cola, this soft-drink company got its start in the French Quarter of New Orleans in 1890. "Drink Barq's. It's Good" is the slogan on the old timey blue-and-white bottles.
Cafe Rose Nicaud Named for Rose Nicaud, a slave who bought her freedom with the money she earned selling coffee in Jackson Square, this café sells a variety of dishes made with local products.
Original Louisiana Hot Sauce Made by Bruce Foods in New Iberia, La., Original Louisiana Hot Sauce boasts that it's the first cayenne pepper sauce of the state.
Mirlitons Also known as the chayote, this gourd is often stuffed with shrimp. For the last two decades, the Bywater Neighborhood Association has celebrated this green delight with an annual festival of music and food.