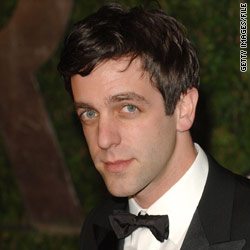 "The Office" star B. J. Novak is scheduled to host the 14th Annual Webby Awards in New York City.
As host of the ceremony, which will be held at Cipriani Wall Street, Novak will be responsible for ensuring that all winners stick to the Webby Awards' famous five-word speech limit.
Winners are selected via the Internet by fans who vote in The Webby People's Voice Awards.
In addition to his gig as co-producer, writer and co-star on "The Office," Novak recently appeared in the acclaimed Quentin Tarantino film, "Inglourious Basterds."
The awards ceremony will be held on June 14 and votes will be collected through April 29.
Speeches and highlights from the ceremony will be broadcast on the Webby Awards special YouTube channel.