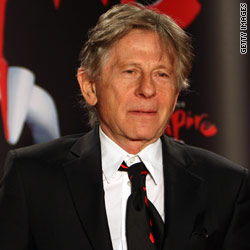 Roman Polanski has published a personal appeal to Swiss authorities asking that they deny a request by California prosecutors to extradite him to the United States.
"I can remain silent no longer," Polanski said Sunday in a posting on a website run by his friend, French philosopher Bernard-Henri Levy.
The Oscar-winning director's letter came 10 days after a California Court of Appeals Judge Peter Espinoza denied a petition by his victim to dismiss the 33-year-old sex case against Polanski.
"I have decided to break my silence in order to address myself directly to you without any intermediaries and in my own words," he wrote.
Polanski, director of "The Pianist" and "Rosemary's Baby," argued that the extradition request was politically motivated by a prosecutor who is seeking publicity and it was unfair because he had already served his sentence.
He pleaded guilty to having unlawful sex with a 13-year-old girl in 1977, but fled to Europe before he was sentenced. He has been the subject of an international extradition battle since he was arrested in Switzerland in September on a U.S. fugitive warrant.
Swiss authorities released the director from jail on $4.5 million bail in early December "pending extradition" to the United States.
"I have had my share of dramas and joys, as we all have, and I am not going to try to ask you to pity my lot in life." Polanski wrote. "I ask only to be treated fairly like anyone else."
Polanski fled the country after learning the judge might not go along with the short jail term he expected to get in exchange for his guilty plea.
The recent documentary "Roman Polanski: Wanted and Desired" portrayed backroom deals in 1977 between prosecutors and a media-obsessed judge who was worried his public image would suffer if he didn't send Polanski to prison.
Polanski said his case was "roused from its slumbers of over three decades" because the documentary "drew the ire of the Los Angeles authorities, who felt that they had been attacked and decided to request my extradition from
Switzerland."
"The new District Attorney, who is handling this case and has requested my extradition, is himself campaigning for election and needs media publicity!" he wrote.
Los Angeles County District Attorney Steve Cooley is currently a candidate for California Attorney General.
Polanski wrote that he served his complete sentence in California's Chino prison 33 years ago.
"That period was to have covered the totality of my sentence," he said. "By the time I left prison, the judge had changed his mind and claimed that the time served at Chino did not fulfill the entire sentence, and it is this reversal that justified my leaving the United States."
He cited as evidence the sealed testimony given under oath in February by the retired prosecutor who was in charge of his case in 1977.
Prosecutors argued his 45-day confinement at Chino was only for Polanski to be evaluated by psychologists.
"Such are the facts I wished to put before you in the hope that Switzerland will recognize that there are no grounds for extradition, and that I shall be able to find peace, be reunited with my family, and live in freedom in my native land," Polanski wrote.
Post-production on his latest movie, "The Ghost Writer," was completed while Polanski sat in a Swiss jail.
Polanski, who was living in France before his arrest, is under house arrest at his chalet in Gstaad, Switzerland.
A Los Angeles judge ruled in January that Polanski must return to the United States before the court can consider his legal arguments against his returning to prison.
"The defendant is a fugitive," Deputy District Attorney David Walgren said at the time. "A fugitive child rapist ... should not be given the power or authority to request anything of this court until he, the criminal, acknowledges this court's lawful authority by surrendering on his outstanding warrant."
The Los Angeles County district attorney's office could not be immediately reached for comment over the weekend.