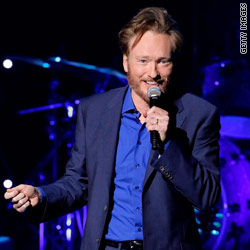 If there's one thing Conan O'Brien - former "Tonight Show" host and current touring comedian – wants the world to know after his "60 Minutes" interview, it's that he's doing just fine.
"I'm doing great," he told CBS correspondent Steve Kroft Sunday. "I hope people still find me comedically absurd and ridiculous and I don't regret anything."
At the moment, it doesn't look like O'Brien has much to frown about anyway. After getting kicked out of his post at NBC's "Tonight," O'Brien has rebounded with the aforementioned tour, a very active Twitter account and a contract with TBS for another late-night program, to start in November preceding George Lopez on "Lopez Tonight."
"I do believe – and this might be my Catholic upbringing or my Irish magical thinking – but I believe things happen for a reason," O'Brien said, before Kroft points out it's actually the Lutherans who hold tight to that adage. "Okay," he amended, "I believe if I experience any joy in life, I'll go to hell."
He may have moved on to a better place now, but O'Brien's wife Liza told Kroft that the entire late-night debacle was like watching O'Brien get his heart broken.
"I went through some stuff and got very depressed at times," O'Brien said. "It was like a marriage breaking up suddenly, violently, quickly, and I was just trying to figure out what happened."
He decided to leave because it felt like "the tone went very quickly from, 'take your time, we understand this is a tough decision,' to, 'let's go,'" he recalled. "That probably helped me a little bit to feel like, 'you know what, this environment doesn't feel right. I've been with these people a long time, and I really don't like the way this is going.' When it started to get toxic and I started to feel that, 'I'm not sure that people even really want me here,' it just…I can't do it."
O'Brien is under a contractual stipulation to not speak disparagingly of NBC or of Jay Leno, but here's what he can say:  "I'm happy with my decision, I sleep well at night, and I hope [Leno's] happy with his decision." If it were him, O'Brien said, he wouldn't have taken the show back. "If I had surrendered the 'Tonight Show' and handed it over to someone publicly and wished them well, I wouldn't have come back six months later," he said. "I would've gone somewhere else. But that's me."
In spite of everything that's happened, O'Brien said he does wish Leno and NBC head Jeff Zucker well, although he disagrees that his "Tonight" was a failure, as Zucker has insinuated. "For anyone to say, 'the results are in after six months,' it doesn't ring true to me," he told Kroft.
One thing that O'Brien does know for sure is that regardless of what everyone else says, he didn't get screwed. "The biggest thing people come up and say to me, 'hey, partner you got screwed.' I always tell them, 'no I didn't; I didn't get screwed. I'm fine,' " he told Kroft. "It just didn't work out."