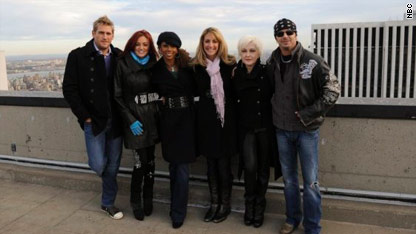 It's only fitting that Bret Michaels' team won this week's challenge to produce three radio commercials for a home-services company. The "Celebrity Apprentice" episode was taped awhile ago, but you can't watch the show without wishing him well as he recovers from his brain hemorrhage. This is the second week NBC aired a "get well" announcement at the end of the show. This week, the network announced the show was dedicated to him.
In this week's episode, Michaels was RockSolid's project manager, and his teammates Sharon Osbourne and Maria Kanellis tried to tell him that the stiff, humorless, corporate executives wouldn't like the jingle that said plumbers "crack" a lot of jokes. He insisted he would accept the blame if the team lost for it. It was a risk, but the team won for its overall originality. I like how this team works collaboratively. You also know when they get into the boardroom, they will accept blame for whatever goes wrong.
At first I thought Curtis Stone should've been the one fired because he really didn't do anything this challenge. He proved he couldn't sing or write a jingle, but he is a chef. They told him they were going to tweak a few lines, so he still probably thinks he did a good job.
But an incident involving Cyndi Lauper changed my mind. Tenacity's project manager Summer Sanders couldn't decide whether to use Cyndi Lauper's voice on a jingle, after Lauper told her she had recovered from her laryngitis. I wanted Summer Sanders fired immediately. No need for boardroom drama. In the end, she decided Lauper should sing on the jingle, but why does a swimmer have to wonder if she can trust the voice of a professional singer?
Donald Trump played games in the boardroom. First, he asked Sanders to determine which person was the best on the team. Holly haters, she chose your girl. Yes, Holly Robinson Peete is safe another week.
When Sanders returned to the firing squad with Lauper and Stone in tow, he announced that he would not fire Lauper either. The executives had loved hearing Lauper sing on that one jingle.
Trump threatened to fire two people at the beginning of the show, so I hoped he would make good on that with Sanders and Stone. No such luck. Only Sanders left this week.
Who do you think will be eliminated next week? Post your comments.