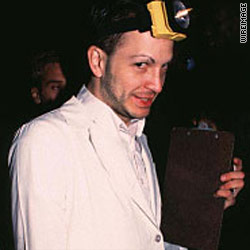 Talk about an appetite for destruction!
The notorious Michael Alig - the erstwhile uber-Club Kid portrayed by Macauley Culkin in the 2003 film "Party Monster" - has been cooking up some notions about his post-prison career.
The 44-year old former New York party promoter and talk show staple pleaded guilty to the grisly 1996 killing and dismemberment of drug dealer Andre "Angel" Meléndez and is due to possibly be released from Coxsackie Correctional Facility this fall, pending completion of a drug treatment program. After serving his manslaughter sentence, he'd like to serve the public. Some food, that is.
In a recent conversation with Interview magazine, Prisoner #97A6595 told writer Christopher Bollen, "I'd also like to open a restaurant - you know, something that doesn't entail staying out until seven o'clock in the morning."
Curiosity whet, we asked Alig's longtime clubland cohort and "Disco Bloodbath" (the memoir upon which "Party Monster" was based) author James St. James, what might be on the menu, should the two of them team up on such a venture. Said he, jokingly, "We'll serve Bloody Marys and finger sandwiches. And the servers will wear orange jumpsuits. Or terribly chic black-and-white stripes."
St. James, who was played by Seth Green in the film, who is now an award-winning novelist and frequent guest on America's Next Top Model, was just warming up.
"We'll call it Blood Feast Cafe," he said, alluding to a famous Alig-promoted Disco 2000 party, prior to the crime, advertised by a flyer picturing fellow club kid Jenny Talia eating Alig's brain from his severed head. Partygoers reported that some guests came adorned in raw liver and beef slabs - which sounds like dandy restaurant decor to St. James.
"There could be a large, slaughtered calf, preserved in formaldehyde, hanging from the ceiling al la Damien Hirst!"
On a more somber note, St. James shared, "(Alig) will always be a part of my life. If someone is there for 25 years, they're there for a reason. You don't have to coddle them. You don't even have to like them. You just have to stand by them."
And we'll stick to the vegetarian side of the menu, thanks.