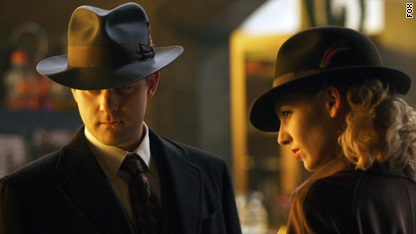 Last night's episode of "Fringe" might prove a bit controversial among devotees of the show. Fans looking for an episode that would move the plot further along or answer some questions have to wait for next week.
However, fans looking for a fun diversion, paying homage to much of what makes this show great, probably really enjoyed this week's film noir musical extravaganza emanating from the mind of Walter Bishop. Count me in that group.
Now that Peter knows the truth about where he came from, he took off and disappeared. Walter, in his sorrow over this fact (and his drug-induced haze), tells Olivia's niece a tale of how her aunt is a hard-boiled detective in a world that looks a lot like the 1940s, but isn't, what with the existence of computers and cell phones. Not only that but in this world, Walter has invented rainbows, and conducts a chorus of singing corpses (love the polka-dotted cow in his lab). Really bizarre stuff, even for this show.
So many callbacks throughout this story, like a photo of Agent John Scott, a weird televised cartoon appearance by William Bell, Massive Dynamic, and the strange device belonging to the Observers, which bursts through a wall as Peter and Olivia are caught by a group of them.
Speaking of Peter and Olivia, they really seemed to relish their roles in a Bogey and Bacall kind of way, delivering some great lines. And how about those singing voices on piano-playing tough guy Lance Reddick, and Jasika Nicole, belting some notes from "A Chorus Line?" The musical selections were very fitting for each scene, whether it be "The Candyman" or even Tears for Fears' "Head Over Heels."
At it's heart, "Fringe" is a story about a father and son, and that was made even more clear this week. Walter gave himself an unhappy ending in his story, though Ella wouldn't have it.
He truly feels that he deserves to be abandoned by his son for what he did (though he certainly also feels that Peter and Olivia belong together). As dark as this series can be, let's hope that Peter can find a way to forgive his father - after all, they play off each other so well.
It wouldn't be "Fringe" without a final scene that left us begging for more, and this time we saw an Observer telling one of his colleagues that Walter was warned about something regarding Peter. Looks like we might be in for another big revelation as the season nears its end.
What did you think of Walter's story? Share your thoughts on video or in the comments below.