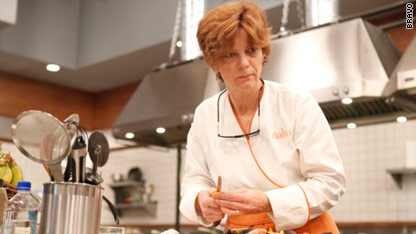 Fruit plates. Comfort food. The cast of the hit show "Modern Family." And an interview with one of this week's chefs, Jody Adams - James Beard Award-winning owner of Boston's Rialto Restaurant!
This week's recap of "Top Chef Masters" is piping hot and ready to be served. And this week, "sheperd's pie" is spelled correctly.
It's week four of the second season, and this is the final episode before the "Champion's Round." Two more chefs will be chosen to move on, and three will pack their knives and return to their fabulously successful culinary careers.
The Quickfire Challenge was to create a fruit plate that tastes great, but also looks good enough to professionally photograph. The winner gets $5,000 donated to his or her charity. And this week, there's a twist! The winner of the Quickfire Challenge immediately moves on to the "Champion's Round." The Elimination Challenge was to serve the cast of the hit ABC show "Modern Family" a traditional family-style dish with a modern twist.
Before we get to the food porn, winners, losers, and interview, let's recap tonight's platoon of high-end hash slingers.
Susur "Ninja" Lee. This Chinese-French fusion pioneer owns restaurants in New York, Toronto, and Washington D.C.
Debbie "Pure" Gold. This James Beard Award winner is the executive chef of The American Restaurant in Kansas City, Missouri.
Maria "New Kid On The Block" Hines. Her specialty is organic cuisine, which she serves at her restaurant Tilth in Seattle, Washington. Oh, she also won a James Beard Award.
Jody "She Won A James Beard Award, Too" Adams. Jody owns the Rialto Restaurant in Cambridge, Massachusetts, and wrote the book "In The Hands of a Chef."
Rick "Faith" Tramonto. Blah-blah-blah James Beard Award winner. This tattooed restaurateur is the executive chef and partner at Tru in Chicago, Illinois.
So, as you can see, a bunch of rookies.
The Quickfire Challenge was judged by Gail Simmons and food photographer Stephen Hamilton. The assignment was deceptively easy –- style a plate of fruit. Susur's was too messy, Maria's too confused, Debbie's too boring, and Rick's was… tacky. But it was Jody's Fig and Walnut Tart with Mediterranean Pomegranate Syrup and Zabaglione that won the Quickfire Challenge, five grand and a spot in the "Champion's Round."
Up next was an Elimination Challenge that had our chefs prepare a family-style meal with a modern twist for the cast and crew of the hit show "Modern Family," which airs on ABC.
The competition was fierce: Maria made a salmon dish with paprika potatoes, almond slivers and almond milk. Rick went simple with a truffle white bean, escarole, and grilled sausage. Jody was still competing for the $10,000, even though she is guaranteed to move on, and served up braised chicken thighs with mushrooms, gnocchi and herb salad. Debbie cooked up glazed pork loins with apple butter and winter squash slaw. And Susur made a roast chicken and curry dish with polenta, grits, tomato chutney and chili mint curry. Joining Jody in next week in the "Champions Round" is Susur, who won with the highest score in "Top Chef Masters" history: 19.5 points.
So, next episode things get real. Eight chefs who are the best of the best, all slicing, dicing, grilling, and plating for a shot at a $100,000 donation to a charity of their choosing and the title of "Top Chef Master" - the man or woman who is going to have to buy a lot of beers for their colleagues.
Remember up top when I wrote there would be an interview with Jody Adams? Please note how I didn't spoil anything by telling you she was one of tonight's big winners. Jody took some time out of her day to answer a few questions from CNN about the "Top Chef" kitchen, chef egos and her favorite charity.
What's the difference between your kitchen and the "Top Chef Masters" kitchen?
The "Top Chef Masters" kitchen is a chef's fantasy. It has every piece of equipment imaginable in multiples and even some that you'd only find in Willy Wonka's chocolate factory. I have one Robot Coupe; the TCM kitchen had ten. I had never even seen an anti-griddle up close. Everything was new and shiny, everything worked and every pot had its own top! And there were the scary high tech ingredients - meat glue, colloidal making powders and other chemicals that I hadn't a clue what to do with.
The thing that I really missed was my staff - I was out there completely on my own.
Are chefs as competitive a breed as they seem on "Top Chef Masters?"
Oh, yes. Each one of us is a pro so there's a spirit of camaraderie, but at the end of the day, we're each there to win. Participating on TCM is like cooking blindfolded while racing a marathon. Naked. Everybody's watching to see if you trip, if you can handle the pressure. And you know that some of the people watching are just hoping to see you fall.
What charity did you compete for, and why did you choose that one?
I'm thrilled to have the opportunity to bring attention to Partners In Health - and maybe win some money for them. They're an organization that I've supported for many years. I've seen first hand the work they do, in Rwanda and, closer to home, in Dorchester, Massachusetts. Partners In Health provides medical care for some of the world's poorest communities, but one thing that makes them stand out is their emphasis on attracting and training local staff - doctors, nurses, and community health workers.
Is there anything you learned on "Top Chef Masters" that you'll use in your own kitchen?
I wished there had been more time to absorb the techniques that others were using and really taste their food. I learned a lot about time. It was rudely brought home to me that if I changed my approach to being 10 minutes early, rather than just on time, I'd be better off.