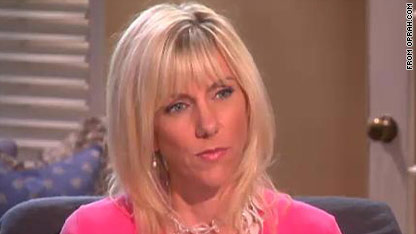 Despite many people telling her it wasn't the best idea to sit down with Oprah Winfrey for an interview, Rielle Hunter - politician John Edwards' mistress - decided to do it anyway.
"I feel in my heart it's the right thing to do," Hunter said Thursday, especially now that "Johnny," as she calls him, has admitted paternity of their daughter, Frances Quinn.
Hunter said she wanted to set the facts straight about who she is, and that while she understands the judgment that has been heaped upon her, she doesn't see herself as a home wrecker or gold digger, she told Winfrey.
"I have been unfairly judged," Hunter said, adding that she believes people reacted so negatively to her relationship with Edwards because "a lot of people bought into the myth of the marriage as being a storybook story, being so perfect and wonderful, and I destroyed it," she said.
While some have called her a gold digger, she "wasn't after him for money, fame, attention. I was never after him. I met him and there was a very strong connection and attraction," Hunter said. And as for the home-wrecking accusations, Hunter observed, "It's not my experience that a third party can wreck a home. A home is wrecked before a third party comes into the picture."
Winfrey noted that Edwards' former wife, Elizabeth, has said that Hunter approached Edwards and told him he was "hot." Hunter recounted their meeting as such: She said that she didn't even know who Edwards was when she saw him at a hotel in New York in 2006, but she did feel an automatic connection with him. When she and Edwards bumped into each other on the street when Hunter was on her way to dinner, she said, "He lit up like a Christmas tree, and I turned to him and said, 'You're so hot,' and he practically jumped in my arms. I said, 'I can help you,' and he said, 'I want your help, I need your help.' "
Hunter said she meant that she wanted to help him "see his authentic self" and "be more of his authentic self so people could see who he really is. My heart felt I could help him." She didn't know how she was going to accomplish this, she told Winfrey, but when he gave her the number to the hotel room he was staying in, she did call later that night. Hunter said she was aware that he was married, but didn't know anything about his relationship, and didn't see anything weird or wrong about going to his hotel room.
"He was very sweet, generous and charming," she said of the evening. "We had a very, very long conversation about helping. He wanted help – he wanted to be more authentic and live a life of truth. He wanted to change his life."
Several days later, Hunter said she realized she was in love. "This was very difficult. ... I [thought] about his wife and his children. It was very hard … [but] the power of the love does override all of the issues and all the judgments that this is wrong."
She said Edwards "disclosed everything in his life," including that the Edwardses' marriage had had "problems for many, many years." The two had frequent, long conversations, she added, on a phone she purchased that looked his work phone.
John Edwards called off the affair at the end of 2006 after Elizabeth Edwards used the phone and called Hunter, but Hunter told Winfrey she never believed their relationship had ended. The affair continued when Edwards started campaigning for presidency.
"I followed my heart and I believe it was the right thing to do," she said. "Which is weird, I realize how weird that is. But I didn't make a commitment to Elizabeth. I wasn't the one lying to her. I was supporting him in his decisions. I knew he had a unique way of getting to his life of truth. I felt like I was supporting him and loving him until he got to where he needed to be."
By May 2007, Hunter was pregnant with Frances Quinn; the pair hadn't been using birth control, and so they both knew that a baby could happen at any time. When Edwards renewed his vows in July, Hunter said he knew that she was carrying his child.
"I wasn't seeing anyone else, and we both knew it was his child," Hunter said. And while his decision to renew his vows knowing that she was pregnant "crushed" her, she still didn't think less of him.
Edwards offered Hunter support with whatever decision she made. Hunter said he never asked her to have an abortion or implied that she should do so. However, once photos emerged revealing that she was pregnant, Hunter agreed to make it seem as though Edwards' aide Andrew Young (also married) was the father of her baby, not Edwards.
The denial continued when Edwards sat down for an interview with ABC News in August 2008. At that point, he'd met his daughter, who was born in February, but he still denied knowing who she was.
"I watched it through a lot of tears, devastated," Hunter said. "Everyone who knew all the facts, said, 'please don't do that interview,' but Elizabeth really wanted him to. She said that 'you have to get out in front of it and speak the truth' but she didn't know the truth.'
It wasn't until after the interview that Elizabeth learned that the baby was Edwards', Hunter said.
At this point, Hunter is staying mum on her relationship with John Edwards, because her personal life needs "boundaries," she said. "He does see [our daughter] regularly," she added. "I still love him very much, [and] it's my experience that he loves me, and I trust him very much."