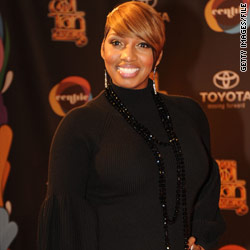 "Real Housewives of Atlanta" star NeNe Leakes and her husband are battling back against rumors that she is a cheater.
For weeks blogs have been buzzing that Leakes has been having an affair with NFL player Charles Grant – a charge she strongly denies.
"Greg and I are still together – not separated or divorced," Leakes said in a statement released to CNN. "I have not left my husband for NFL player Charles Grant, and I don't know how those rumors started."
"Charles Grant is no more than a casual acquaintance of mine since hosting one of his charity events in Atlanta about a year ago," she added. "I really have not had any contact with him since the Super Bowl, where I congratulated him for his big win along with other fans."
Leakes husband, Greg, backed up his wife's assertion that she has been faithful.
"I stand behind my wife 100 percent," he said in a statement. "NeNe and I have been married for 13 years, and she has been a faithful wife to me. We are a normal married couple, going through ups and downs, just like any other couple."
That is not to say that the couple are not having issues, he went on to say.
"Yes, we're experiencing a marital storm right now, but I believe with God's guidance, we'll get through it," Greg Leakes said. "Right now, our marriage is not a perfect one, but rumors and innuendos, accusing my wife of infidelity has been damaging to the reputations of NeNe and Mr. Grant. I am not an injured party, and accusations that NeNe has done something to hurt me or jeopardize our family are false and far from the truth."
Grant, who formerly played for the New Orleans Saints, was indicted with a group of other men on a charge of involuntary manslaughter following the shooting death of a pregnant woman outside of a Georgia nightclub.