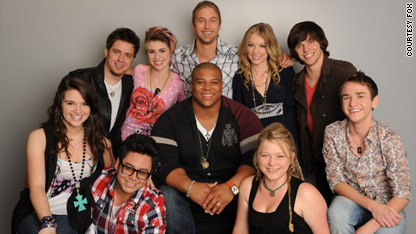 testing captions
It's going to be an "American Idol" summer.
Tickets for the "American Idol Live! Tour" go on sale May 14. The show, featuring the Top 10 contestants, will hit 49 stops across the country.
Simon Fuller, creator and executive producer of "American Idol," said, "We are all looking forward to this year's American Idol Live! Tour. This is always one of the highlights of the year."
"Each of the Idols have the chance to meet the people that voted for them and perform at incredible venues all over America, another special moment in their developing careers."
At least one contestant will have more songs to offer up during the tour.
Wuli Records, a small Chicago label,  is making available two early prereleased songs by Lee DeWyze. "Slumberland" and "So I'm Told," features producer Ryan McGuire and guitarist Louis Svitek, well-known for his work with Ministry, M.O.D. and Mind Funk.