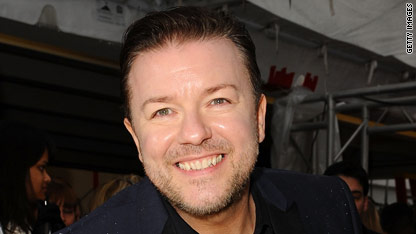 Ricky Gervais has signed on to host next year's Golden Globe Awards, scheduled for January 16, 2011, NBC and the Hollywood Foreign Press Association announced Wednesday. It'll mark the second time the actor will take center stage for the annual show, following his gig for this year's honors.
"I can't believe they invited me back after awful things I said," Gervais said in a statement. "Let's see how far I can go this time."
"We are thrilled to have Ricky back as the host of the Golden Globe Awards," HFPA President Philip Berk added in the release. "His combination of wit, irreverence, and spontaneity makes him the ideal host. He was fantastic last year, and he'll be even better the second time around."
Gervais led last year's Golden Globes telecast to its highest adults 18-to-49 rating in the time period in five years, and the show was watched by 17 million viewers overall. He is a producer for "The Office" and wrote, starred in and directed "The Invention of Lying" last year.