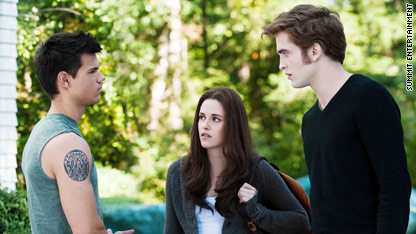 testing captions
"Gods and Monsters." "Chicago." "Kinsey." "Dreamgirls."
"The Twilight Saga: Breaking Dawn"?
Yes, the movie version of the Stephenie Meyer novel is the next film on Oscar winner Bill Condon's agenda. Condon, who earned his Academy Award for his "Gods and Monsters" script and helmed "Dreamgirls" - for which Jennifer Hudson picked up a trophy - will direct the fourth film in the "Twilight" saga.
"I'm very excited to get the chance to bring the climax of this saga to life on-screen. As fans of the series know, this is a one-of-a-kind book – and we're hoping to create an equally unique cinematic experience," said Condon in a statement from the series' producers, Summit Entertainment.
"Breaking Dawn's" screenplay will be written by Melissa Rosenberg, and the old gang of actors - Kristen Stewart, Robert Pattinson and Taylor Lautner - is scheduled to return to play their roles.
The first two films in the series, "Twilight" and "New Moon," grossed more than $1 billion worldwide at the box office. The third film, "Eclipse," is scheduled for release June 30.