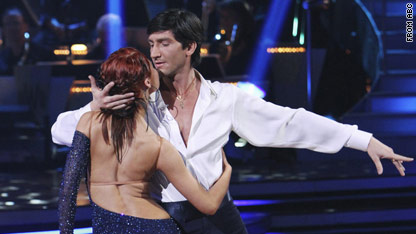 testing captions
Poor Evan Lysacek. The Olympic skating champ who has been doing so well on "Dancing With the Stars" not only suffered a mild concussion during rehearsals for last night's show, but also received his first bad reviews from the judges.
Lysacek performed the samba with his professional partner Anna Trebunskaya - a performance that seemed really terrific and showed off his great posture and dancing skills. But judge Bruno Tonioli summed it up this way: "It was pretty to look at, but it wasn't correct for this dance." Judge Len Goodman called it Lysacek's worst dance so far and pronounced it "too balletic."
Lysacek seemed to take it all in stride, perhaps still recovering from the concussion he suffered while Trebunskaya flipped him over her back as they were rehearsing for the swing dance marathon, prompting him to land straight on his head... a moment the producers showed over and over again.
Last night's show was the first Kate-Gosselin-free episode of "DWTS" and there were no cringe-worthy performances.
Jake "The Bachelor" Pavelka did a decent job with the samba, though Tonioli said that he lacked bounce. Comedienne Niecy Nash performed what was perhaps the first Argentine tango with a dash of comedy in it, playfully biting off part of a rose at the beginning. (Her professional partner, Louis Van Amstel, ended the routine by taking a bite of a cookie and almost choking for real.)
ESPN correspondent Erin Andrews is still bickering with her professional partner Maksim Chmerkovskiy in rehearsals, but they received mostly good scores for their samba. The biggest attention-getter of that number seemed to be Andrews' giant skirt made of feathers, which made her look like a purple version of Big Bird. After the dance, Goodman blamed Chmerkovskiy for not bringing out Andrews' full dancing potential, which prompted a flash of anger on Chmerkovskiy's face.
Football star Chad Ochocinco was urged to take the lead in the Argentine tango and he did so, resulting in a passionate performance that the judges loved.
Singer Nicole Scherzinger did a great, festive samba that received a perfect score from Tonioli, but which prompted Goodman to remark: "It's not a samba, it's a hodge podge of sexy moves and gyrations."
Meanwhile, actress Pamela Anderson tackled the Argentine tango in a brunette wig, but she seemed a bit hesitant and wobbly at times.
The swing dance marathon was the big finale for the evening and the first group dance of the season. Scherzinger received the top scores for that one and once again leads the pack. Pavelka is at the bottom.
Who do you think should be voted off tonight?