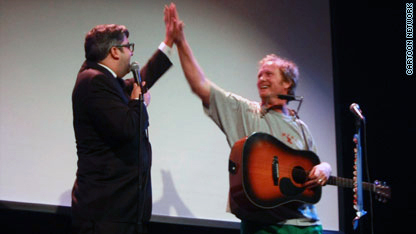 Dave Willis and Dana Snyder don't have to shave before work in the morning. They don't even have to wear pants if they don't want to - the pair actually insists they don't.
So the transition from behind the scenes voiceover actors to on-stage comedians took some getting used to for the men behind the cult TV series "Aqua Teen Hunger Force" on Adult Swim.
Willis, the co-creator of ATHF and the voice of "Meatwad" and "Carl," and Snyder, the voice of "Master Shake," recently embarked on a 19 city comedy tour, "Aqua Teen Hunger Force Live."
The tour, which began in Austin, Texas, April 17, will conclude on May 15 in Atlanta, Georgia, where the men live and work.
Willis said the pair tried their hands at live comedy in 2009 when they did "some warm up shows to see if (touring) was really going to be a viable option."
"We were pleasantly surprised that not only did we think we should do a live show, but so did everyone else who came out to it," Willis said.
Though Snyder is no stranger to performing for a live audience, Willis has spent the majority of his comedy career in the studio.
"I do a lot of voices on (ATHF)," Willis said. It's a different kind of performing, not doing it for a live audience… (The tour) has been a great learning experience, and not just from a performing standpoint."
It's nice to get that immediate response from the audience and see people laugh," he added.