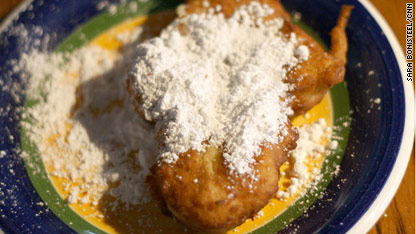 Fried dough is delicious, but it won't stop your baby's momma from getting all up in your face when you cheat on her with a stripper.
That's the food takeaway from the third episode of the drama "Treme." "Right Place, Wrong Time" touched on New Orleans' fritter-like treats (from the suburban Morning Call) along with the city's tradition of open-alcohol containers.
Trombone player Antoine Batiste opened the episode by giving new meaning to the phrase "don't come a knockin'" - in this case 'cause the FEMA trailer is a rockin'. Returning home from his stripper dalliance, he tries to cover this after-dawn return with a bag of Morning Call beignets, but it backfires with his girlfriend, Desiree, who threatens to move to Memphis where her mother has evacuated the hurricane.
Meanwhile, yappy ex-deejay Davis McAlary finds himself in the slammer after an altercation with National Guard troops over drinking a beer on the street.
"Treme" has plunged into the depths of the state's incredible drinking laws, where the paper wrapper on a straw constitutes a closed container at the drive-thru and Go Cups -– plastic cups, sometimes those thrown from floats at Mardi Gras –- let imbibers take their celebrations legally to the streets.
"I'm like, dude seriously, what part of Louisiana are you from?" McAlary tells his lawyer, Toni Bernette. "We invented the Go Gup … we invented the drive-thru daiquiri shop."
Once McAlary gets out of jail, he goes about trying to get back into the good graces of his on-again-off-again friend-with-benefits, chef Janette DeSautel. She reluctantly takes a night off from her struggling restaurant to join him for a dinner at Feelings Café, a real-life romantic spot on Royal Street in the Faubourg Marigny neighborhood near the French Quarter.
Feelings, like the show's fictional DeSautel Café, is one of the eateries having a tough time returning to business as usual.
One restaurant that didn't survive Katrina is Bella Luna. This lovely French Quarter locale serves as a backdrop to the episode's creepiest food moment.
It is there that street musician Sonny - angry that his violin-player girlfriend Annie has accepted a gig on her birthday and spoiled his evening of romance - gets tanked at the open bar. On the balcony, he watches her play while recounting to a well-dressed stranger the horrors of post-Katrina flooding.
"Dude, I've seen snakes crawling out of dead bodies," he says. "Crab coming out of them with pieces of flesh."
Then, without skipping a beat, he gnaws on a piece of free party chicken.
Here's a guide to the local products and restaurants in episode three of "Treme":
Abita Amber This is the beer Simply Reds sips in episode three as Davis McAlary sings his ode to the "strippers moving into my neighborhood." Abita brewery has expanded post-Hurricane Katrina and raised money for the Louisiana Disaster Recovery Foundation soon after the storm with a special Restoration Ale.
Feelings Café, Located in the D'Aunoy Plantation in the Faubourg Marigny, Feelings has been around since 1979, serving up elegant fare with local ingredients such as mirlitons (also known as chayote) and crawfish.
Morning Call While the world over knows of the beignets of Café du Monde, locals treasure Morning Call. This coffee stand began life in 1870 on Decatur Street in the French Quarter, but moved in 1974 to the suburbs, taking its marble-slab countertops along with it. They don't dump powdered sugar on these beignets. Customers do that themselves.
And a little lagniappe from last week's episode:
Clover Grill Readers pointed out that we forgot to mention that Clover Grill was namedropped in last week's episode. This Bourbon Street staple is open 24 hours serving everything from breakfast to juicy burgers. The line cooks are lively and echoing their motto, the food does taste better after midnight.