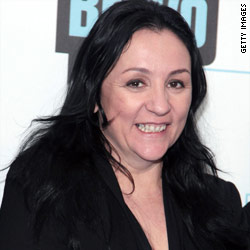 Kelly Cutrone really believes in charting her own course.
The star of the Bravo show "Kell on Earth" has launched her own YouTube channel, KellyCutroneTV.
The channel features Cutrone's web-based talk show where the initial episodes were conducted pretty close to home – as in Cutrone's bed.
The show "Wake Up and Get Real" features the outspoken fashion publicist who makes her feelings known on various topics in her own, invariable, tell-it-like-it-is style.
"I'm just going to go natural for the rest of my life," she says on her first video where she appears sans makeup and wearing huge glasses. "I'm just going to do the whole no makeup thing and (expletive) you all, I don't really care. I'll stand next to Lauren Conrad and Whitney Port and not wear any makeup."
A few of Cutrone's friends make appearances, including actress Justine Bateman who calls the show "the anecdote to 'The View.' " Bateman is best known for her role as Mallory Keaton on the popular 1980s sitcom "Family Ties."