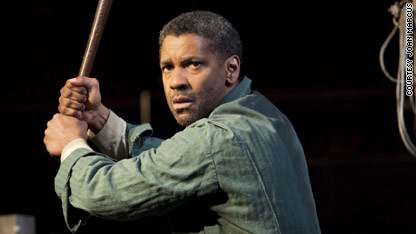 Just because Denzel Washington has two Oscars sitting somewhere in his house, it doesn't necessarily mean he can step onto a New York stage and deliver the goods. He has proven himself cinematically speaking, but this is live theater. You only get one take when the audience is sitting, watching and breathing a few feet away from you.
Broadway is adorned with big name Hollywood stars of late. It's a cyclical thing. Movie stars turn to Broadway for the work and quite possibly to legitimize their own acting skills.
But let's get back to Denzel. How is he in "Fences"? He is a force.
Yet if Mr. Washington commands presence and power in this production, you could credit the play - this one is all about the words and the way they are delivered. August Wilson's story about an African American family in the 1950s won the Pulitzer Prize for drama and also grabbed four Tony awards when it opened in 1987. But "Fences" couldn't stand on its own in 2010 if it were built on that legacy alone.
Does this revival match its original run and glory? That's for theater-goers to decide on April 26, opening night.
"Fences" centers around protagonist Troy Maxson, played by Washington. Troy is a hard working garbage collector raising his family in working-class Pittsburgh. He is faced with the limitations put upon him because of his race and events from his past. While Troy has tried to move beyond what has held him back, he is stuck collecting regrets. The things in his life that define him, may be exactly what he is trying to escape from. He is conflicted by his son's dream because he was unable to live his own. His responsibilities are a chip upon his shoulder.
In Act I the audience sees Troy happily married to Rose, played by Academy Award nominee Viola Davis. By Act II the audience is gasping at what transpires on stage. "Fences" is surprising - it shifts your expectations midway through. And while not everyone will relate to Troy Maxson's life completely, there are enough common threads about the human heart, life's disappointments and discarded dreams within these "Fences."