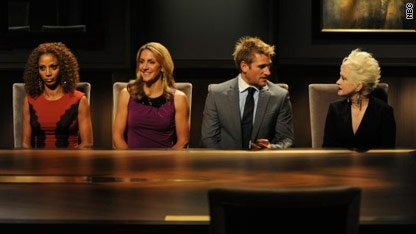 From the first minute, this week's "Celebrity Apprentice" teams created a lighter atmosphere and a fun (sometimes sex-charged) energy that made the two hours more bearable to watch. I'm grateful.
Sharon Osbourne, Bret Michaels and Maria Kanellis became the new RockSolid. Curtis Stone, Summer Sanders, Cyndi Lauper and Holly Robinson Peete formed Tenacity. Lauper spent some time away from the team again, but who cared since she worked with Lady Gaga, who later became a donor.
The teams created and taught a workout class in a 24 Fitness Center. Since the challenge was a fundraiser, the donors had to either show up for the classes or the team had to have a body in their place. The best and most original one would also win an extra $24,000.
That pitted project managers Sharon Osbourne and Holly Robinson Peete against each other. Peete haters: Were you surprised that Peete believed she would lose this challenge to Osbourne? Peete is, after all, a fundraiser. I had hope for her. She sincerely seemed to be on this show for her charity because she became emotional about her teammates rallying for it by securing donors.
And then… drum roll please. She just couldn't keep her mouth shut, even after her team won and Osbourne's lost.
Donald Trump asked Osbourne if she wanted to go home. She didn't. Peete blurted that Osbourne gave the opposite answer the other night. Osbourne explained she said that when she was sick.
"Holly is a fighter," Osbourne stated.
Clearly! Peete should go home for just speaking when no one is talking to her!
Money packs a punch so powerful, it apparently provokes a need for Trump to announce that he has a heart. He announced that both teams combined raised around $347,000. No eliminations this week on "Celebrity Apprentice." Of course, you may recall that Michael Johnson left the show unexpectedly a couple weeks ago, and Trump still fired Selita Ebanks.
I guess Peete wanted to show she had a heart too. She told Osbourne she would write a check to Osbourne's charity too. Hmm… Osbourne may have lost this challenge, but I am ready to declare her the overall winner for the season. Do you agree?
Osbourne's team won the $24,000 for originality for their class, based on being a rock star groupie theme. Some of their moves were suspect, but it looked fun.
Did this episode make you like Holly Robinson Peete ? Who do you want to see eliminated? Post your comments.