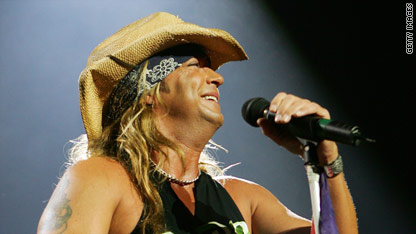 testing captions
(CNN) - Bret Michaels is in critical condition as doctors search for the source of bleeding in his brain, his road manager said Monday.
The rock singer and reality TV star suffered a massive brain hemorrhage and was hospitalized Friday.
"As of now, Bret remains in ICU under 24 hour surveillance," Janna Elias said in a posting on his website Monday. "Further testing this week will help locate the source of the bleeding."
Michaels' doctors will release a statement on his condition this week, she said.
"Please remember Bret is, and always has been, a fighter and survivor and is under the best medical care possible," she said.
Michaels, 47, was the lead singer for the '80s glam-metal "hair band" Poison. He became a reality star by headlining the VH1 show "Rock of Love with Bret Michaels." He has also appeared on "Celebrity Apprentice."
His manager also criticized people who know Michaels who have given "interviews to the media when they have partial or incorrect information."
"None, and I reiterate, none of the people that have been interviewed are authorized representatives, nor do they have the right to speak on Bret's behalf," she said. "We have attempted to release authorized statements through our publicist so as to keep everyone up to date as information becomes
available."
His manager and publicist have been careful not to disclose the hospital or even the city where the singer is being treated. They cite security reasons for the secrecy.