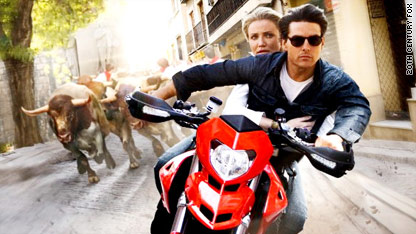 Hi Trailer Park fans! In this week's rundown we take a look at the new Tom Cruise movie, a film about a World War II hero and the new spin on a classic tale - that may or may not impress fans.
For good or for bad, Tom Cruise's new movie trailer for "Knight and Day" reunites fans with 100 percent classic Tom Cruise.
From the very first words out of his mouth to co-star Cameron Diaz - "Boston? Gate 12" - all the trademark characteristics of a Cruise movie are there. There's the swagger, the charm... the clever cinematography to make him appear to be as tall as his much taller leading lady.
But will it all make for a good movie? That's not for me to decide, but take a look at the trailer and sound off in the comments below. I can safely say, "I just don't know." The movie, which opens on June 25, 2010, is best described as an action-comedy and centers on Tom and Cameron as an unlikely fugitive couple on the run through a series of deadly, yet sexy adventures where nothing and no one is to be trusted.
Every now and then a movie trailer comes along that transcends entertainment into the realm of education and inspiration. After watching the trailer for "John Rabe," I felt inspired to educate myself about its title character.
While he is perhaps a familiar figure to war historians, I would venture to guess that, like myself, many people would be surprised to learn that a German businessman named John Rabe helped save the lives of more than 200,000 Chinese civilians during World War II. German audiences raved about the film when it showed at the Berlin Film Festival last year. Likewise, it was extremely well received by The German Film Awards - the nation's version of the Oscars - where it won four awards, including best film and best actor. The movie opens in select cities on May 21, 2010.
Disney's 1991 animated feature "Beauty and the Beast" was the first cartoon ever nominated for an Academy Award for best picture. Nearly two decades later fans will have another chance to see a big screen incarnation of the fabled tale.
In "Beastly," Alex Pettyfer plays a man whose physical beauty is only surpassed by his arrogance and egocentrism. Soon enough a spell is cast and the once-stunning Adonis is turned into everything he despises.
He has one year to find a young woman who will love him in spite of his hideous exterior. The woman in question is played by "High School Musical" star Vanessa Hudgens. The trailer looks like it will entice a certain population of teen and pre-teen moviegoers. It also looks as if the film's make-up department had a fine time turning Pettyfer in a beast. But will fans be engrossed or just grossed out? We'll find out on July 30, 2010 when the "beast" is released!