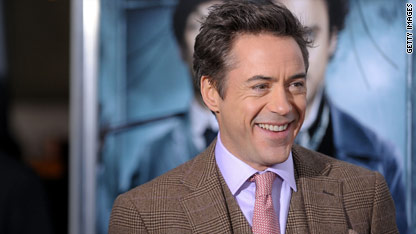 The boys - and one esteemed woman - are back in this week's casting report roundup.
Robert Downey Jr. is said to be in the running to play the wizard in a Disney prequel to "The Wizard of Oz," the LA Times reports.
Downey has reportedly been chatting with the film's producers about portraying the wizard before he became the man behind the curtain. Sam Mendes ("American Beauty") and Adam Shankman ("Hairspray") are said to be the two directors in talks to lead the cast. Word on the street is that this film, just like everything else these days, is aiming to be in 3-D. If this sounds all kinds of awesome to you, don't get your hopes up - the LA Times noted that Downey's schedule may prevent him taking the part.
Jack Nicholson, 73, has been offered a part in your grandfather's version of "The Hangover," NYMag's Vulture reports.
The movie, titled "Last Vegas," is being written by "Cars" screenwriter Dan Fogelman, who spins a tale about four estranged male childhood friends from the fifties who meet up in Vegas to send the playboy of the group down the aisle. Nicholson would play the forever bachelor.
Leonardo DiCaprio just may don a dress for a possible role in Clint Eastwood's J. Edgar Hoover biopic, E! News reports. "We all have these assumptions about Hoover," screenwriter Dustin Lance Black said. "Was he this or was he that? Was he a cross-dresser? Was he gay?"
Black added that DiCaprio is "absolutely perfect" because much of the biopic will focus on a young Hoover. "It's the right time and moment for him to play this role," Black said. "It's the right intersection of his age and his wisdom."
And then we come to something that's been confirmed by the Hollywood Reporter: Helen Mirren and Russell Brand will be a dynamic, English duo in a Warner Bros. remake of the 1981 comedy "Arthur."
Brand will play "Arthur," the drunken millionaire who falls in love with a women of the working class, and Mirren has been installed as his longtime nanny, a revision of the valet role John Gielgud played with Oscar-winning success in the original.