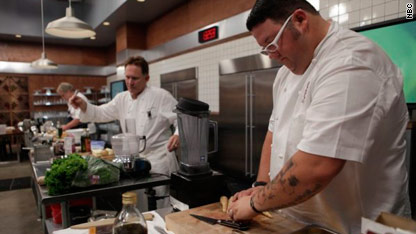 The third episode of "Top Chef Masters" brought back six losers from last season. It just so happens that, like all of the "cheftestants" on the show, these losers are culinary legends who run some of the best restaurants in the country.
What happens when you take a sextet of larger-than-life chefs bringing their A-plus games on a mission to redeem themselves? You get macho posturing, mouth-watering dishes, and total, unmitigated failure.
You also get a Frenchman who curses at reality stars, Irish cuisine and his fellow colleagues.
Episode three saw a Quickfire challenge where our chefs had to make a dish that paired well with a high-end vodka cocktail, and an Elimination Challenge where they had to reinvent a legendary pub food dish.
As always, each chef is competing for bragging rights and for charity. Winner of the Quickfire wins $5,000, and the Elimination Challenge winner is awarded $10,000. For a third week, two chefs will move on to a special Champion's Round, where a $100,000 purse sits.
Tonight's chefs are a combustible lot and they are:
Wylie "Mr. Wizard" Dufresne, the mischievous "molecular gastronomy" prophet, and owner of New York's hip WD-50.
Graham "Funky Glasses" Elliot Bowles, a pugnacious restaurateur from Chicago and self-professed rival of Wylie.
Mark "Pudding" Peel, of Tar Pit in LA. Mark is a best-selling author and James Beard-nominated chef.
Jonathan "Obi-Wan" Waxman is the owner of Barbuto and has mentored an entire generation of chefs over his thirty year career.
Ludo "Frenchman" Lefebvre. This provocative, classically-trained French chef owns Los Angeles' Ludo Bites.
Rick "Neptune" Moonen, a sustainable food activist, seafood expert, and owner of RM Seafood in Las Vegas.
The Quickfire Challenge was the first obstacle these chefs faced, and unlike the other participants in this season of "Top Chef Masters," these men are all too familiar with the ritual. This time around, they are tasked to prepare a meal that pairs, compliments or reflects ridiculously named cocktails like the Ginger Figgle, Coriander Mule, and Nutmeg Applik Mojito. Unlike fine wines, these brews were infused with sugars and other strong flavors.
The judges for this round were regular judge Gael Green - wearing a radioactive pink hat - and three of "The Housewives of Orange County," a popular reality drama on Bravo TV. Rick took a risky bet and made a sweet, berry shortcake to reflect the sugary drinks. Mark, Wylie, and Graham bet on seafood. Mark a mussel custard, Wylie an arctic char with lentils and bacon, and Graham a crudo of black cod with edamame. But it was Jonathan's simple pork tenderloin and poblano-stuffed shrimp that won. Not only that, it won the first five-star rating of the season.
The best part of this challenge was watching the chefs sneer and openly mock the unsophisticated palettes of the Orange County housewives. It was actually funny to watch professionals doing what they do best - recoil at the vapid reactions these women had to their cutting-edge cuisine. Gael was brought in, presumably, to play the heavy and offer more thoughtful critiques of the dishes served.
For the Elimination Challenge, the chefs had to choose one of the follow Irish pub foods: bangers and mash, steak and kidney pie, sheppard's pie, Irish stew, fish and chips, and something called toad in a hole, which is a sausage planted in Yorkshire pudding.
From the get-go, Ludo was hostile to the idea, which is why his Irish Stew was one of two total failures. When he wasn't in an open war of words with Rick, he was complaining. His interpretation of the stew was beef tenderloin, potatoes confit and miso with Guinness caramel.
The judges felt it totally lacked any contextualization. Rick had the last word, suggesting Ludo should have played to his strengths and made a Lamb Bourguignon. Rick ended up the episode's second winner with his version of fish and chips –- chicken-fried sable with a bright, show-stopping lemon confit tartar sauce and twice-fried potatoes.
The other pair of trash talkers, Wylie and Graham, both had successful showings. Wylie, a chef who's love of "molecular gastronomy" has seen him prepare alienating, if fascinating, experimental dishes, served up a banger and mash what used spicy sausages with smoked mashed potatoes and onion jus. Graham made steak and kidney pie look tasty with a roasted beef tenderloin and Chanterelle puree with bacon-kidney vinaigrette drizzled over it.
The biggest meltdown was Mark Peel's version of toad in a hole. He had planned to make a homemade seafood sausage, and onion sauce, but his timing was off. The Yorkshire Pudding came out doughy and undercooked instead of crisp and puffy.
However, the winner, again, was Jonathan, who's recreation of sheppard's pie was a huge winner. He served lamb with mashed potatoes, and Parmesan cheese. The dish itself looked sloppy, but the judges swooned. He got a five star rating from all the judges, save for Gael, who gave him 4.5. It was a good win, and one the other chef's enjoyed, seeing as they have given the man two respectful nicknames: Gandalf and Obi-Wan.
Both he and Rick will be moving on. The other chefs will be packing their knives, licking their wounds, and, no doubt, spoiling for a rematch.