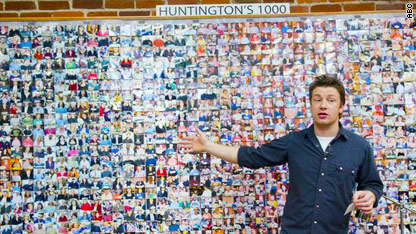 In case you've been trapped under a truckload of frozen chicken nuggets for the past few weeks, here's the recap:
Celebrity chef and self-proclaimed "professional s***-stirrer" Jamie Oliver came to Huntington, West Virginia - considered by various metrics (obesity, toothlessness and heart disease rates, among others) to be the unhealthiest city in America - with co-producer Ryan Seacrest and a camera crew in tow. His goal: recreate his successful U.K. campaign to overhaul school lunch menus, teach families how to cook healthier (or even just cook) at home and make the residents keenly aware that many of them just might be paving the way to an early grave with processed, overly fatty food.
Did he succeed? You'll have to tune in to the season finale on Jamie Oliver's Food Revolution on Friday night, but we caught up with the erstwhile Naked Chef to get the inside dish on the aftermath of his Huntington visit, the element of balance and what every home cook should have stashed in the cupboard. The following is an edited version of that interview:
What was the moment in Huntington where you first truly believed, "Oh yes, this is actually going to work?"
Has that moment happened yet? It's still a work in progress. I was in Huntington last week and saw lots of improvement in the schools. Kids from the community and in the schools were stopping to tell me about all of the recipes that they were asking their parents to cook for them - so I am hopeful - but change takes a long time. In the UK, we had planned for the school food campaign to be a 10-year project and so Huntington is still in very early days. But it's made a good start.
What is the single biggest change you saw one person make?
I wasn't really looking for one big change. I was hoping for and looking for lots of little changes. Kids willing to try new things and choose white milk over sugar-loaded flavored milk; parents and folks in the community trying to cook at least one meal a week at home using fresh food; residents of Huntington just showing up and taking a cooking class at the Huntington Kitchen. Big change comes from a willingness to make small changes. Small changes turn into better habits, and then you string better habits together, and at some point you've made big change.
Any plans to follow up to see if they're keeping up with good habits in Huntington?
Lots of plans actually. The Huntington Kitchen is up and running giving cooking classes almost every day now and we're rolled out into 24 of 26 schools in Cabell County. We're in the process of securing the funding to continue the program next year in all of the schools and my gang checks in with the Kitchen and Rhonda regularly, and we will continue training both the cooks in the school and the cooks in the Huntington Kitchen. I also have huge support from the Governor as well as others in the community including DJ Rod, Pastor Steve and recently, Alice, who are continuing the programs we started together.
If there is one food you could abolish from this earth, what would it be?
I am not against any particular foods, really. I'm all for people having a treat from time to time just so long as they balance that with good food, cooked using fresh ingredients and full of nutritious stuff. So I wouldn't abolish anything but instead I would increase people's knowledge about food so they can make good food choices more often than not.
If there is one food you wish everyone would eat more of, what would that be?
Salads. They are so easy to make and so many varieties. Kids love them.
What food items would you recommend that people have stocked at all times, so they can always whip up a fresh, healthy, delicious meal?
There's a huge list at the front of the Food Revolution book but if you just want to get a basic basketful of store cupboard ingredients so that you can always make a meal, even when you're out of fresh stuff, I'd go for: cooking oil – groundnut or sunflower, dried pasta, dried noodles, rice, couscous, tinned tomatoes, various tinned beans like kidney or cannellini, tinned tuna, sea salt, black pepper and dried chilies.
And also learn to love your freezer because there's nothing wrong with frozen veg - peas, French beans, sweet corn.
Inspired? Sign Jamie's Food Revolution petition.